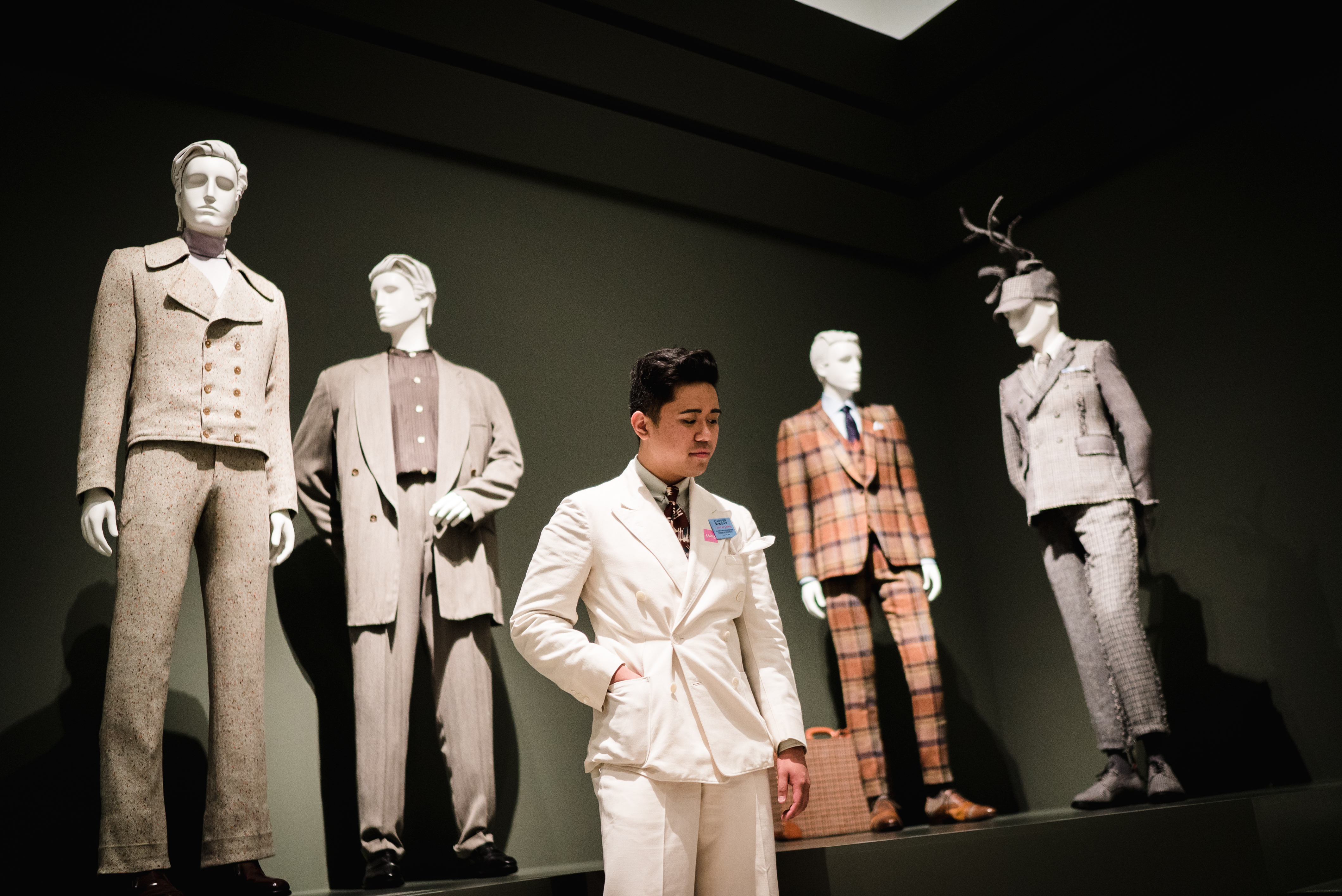 It's not everyday that that you get an email inviting you to be a host of an event. Imagine my surprise when Justin Jorgensen, creator and mastermind behind Dapper Day at Disneyland, invited me to be one for their collaboration with the Los Angeles County Museum of Art. The event revolved around two things: "Jazz at LACMA" (their weekly summer concert) and their latest exhibit, "Reigning Men: Fashion in Menswear, 1715-2015".  It was Dapper Day x LACMA.

The entire event was surreal. Justin informed that that there was a specific section of the plaza that was reserved for Dapper Day guests, that I would get free tickets and validation to the event, and that I would have an on site contact! Never having had anything of the sort before, I was surprised to see that I was recognized by the LACMA staff; Ashley (my LACMA contact) recognized me as soon as I was off the elevator! She and her colleagues then asked me to be in a live Facebook video where they would ask me about my style and some commentary on the exhibit. It'll save you some time and tell you that I was pretty cringy and totally unprepared!

The Exhibit
The Reigning Men Exhibit was pretty amazing! Well-dressed mannequins adorned the sides of the rooms, ranging from 1700 suits to 1990s couture. You can check out my gallery of my favorite pieces here, but I really implore you to check out the exhibit yourself! Pictures are one thing, but seeing it in person is another.  With the ticket, you'll have access to all of the other permanent collections, so you should make a day for it!
One of their major acquisitions was a zoot suit, which was featured in the first room. Now this has sparked some controversy in my circles, since real zoot suits do not look like this one. For those of you who don't know, Chicanos (and some Filipinos even) wore zoot suits, in the late 1930s to early 1940s as a form of cultural protest. Some say it was to protest the fabric rations of the war and others say it was to go against the grain of the perfectly tailored era. Either way, zoot suits were made to look exaggerated, with a longer body and extremely roomy (but pegged) legs. Think of it like the 2015 trend of wearing a parka with joggers.

Civilian worn zoot suits were made of typical suiting fabric and NOT in the crazy colors that you normally see in cartoons or movies. Personally, I find it a bit insulting to the era as it assumes that these young people (who were killed and arrested) were wearing costumes and not clothes as a sign of protest. Anyway, many of the people in the vintage community assert that this zoot suit on display, while authentic 1940's, is not civilian worn, but a costume.
If you look at the jacket, you'll see why. The fact that it is horizontally striped and has contrasting patch pockets should be a dead give away.   As I said before, zoot suits were made of normal suiting fabrics and patterns of the era, and no one in the right mind would wear this, even a zoot suiter.  The suit also has overly exaggerated pockets, extremely high-waist, and extra wide legs with a serious pegged ankle; its pretty comical.  My colleague and friend J. C de Luna, the Barrio Dandy and an expert in chicano/LA cultural history, stated in the Live Facebook Video that this was more akin to what a band leader (like Cab Calloway) would wear on stage.
The Style
Ethan
Since its about 100F in Los Angeles, I went with my newest suit! It's a true vintage 1930's suit made from Palm Beach cloth. It fits all the hallmarks of 1930's style: fitted torso with natural shoulders, moderate button stance, and wide (but straight) legs that are perfectly hemmed.
This suit should actually be apart of the exhibit! I've talked about Palm Beach before, but I love saying it again: this fabric isn't made anymore. It's a breathable, but sturdy combination of unknown percentages of cotton and linen (in certain periods) and was the hottest fabric of the 1920s-1950s. It's pretty much like the solaro of the period! The company (which was bought out for the name only in the 1980s) made everything from suits, blazers, and trousers, to ties! The texture of the fabric and the fact that it's no longer available, make it a prized piece in the vintage community. Mine was cheap since it has a plain back instead of an action back.
Let this be a reminder to you that suits of any color allow you to play with colors and patterns.  My shirt is green and my tie has boats on it!  If I wore a sportcoat and odd trousers, it probably would've been "too much", but thanks to the suit acting like a grounding agent, I can have some fun with my outfit!  I really need a modern white suit.
Jon
Jon followed my lead by wearing his own white suit!  He's not a vintage or fashion enthusiast, but he really nailed the "summer sartorial" look down! His only piece of vintage is the tie, which is a 1930's striped rayon number.
Dylan

Dylan's one of the first friends I made when I got into the vintage scene. He definitely likes pieces of the 1920s-1940s but his true passion lies in the 1910's.  Due to its age, its definitely hard to find wearable pieces! While his outfit isn't particularly great for summer, its still a beauty.  His "teen's" suit is a forest green with light green stripes; the fact that it's a full three piece adds to the rarity!  Combined with his startched detachable collar and extremely cool 1910's knit tie (super skinny mind you), he should really be included in the exhibit!
Let's keep the white suits going with J.C de Luna (the zoot suit expert) and his pal who were also invited hosts of the event.  J.C is wearing a vintage 1960s(?) s summer suit with his classic accessories.  I say that it's 1960's due to the narrow button placement and the more modern, rounded belly, up-turned peak lapels.  Older DBs had a wider button button placement and much more horiztonal lapels.  Either way, it's a great piece!
  It's cool to note that his color palette is pretty much taken from Leonardo Dicaprio's outfit in The Great Gatsby movie, with the white suit, purple shirt, olive vest, and gold tie.  Dapper, indeed.
His pal is wearing a palm beach suit (like I am), but his is much more rare.  If you look in closely he's got a beltback! They simply don't make details like this anymore.  Also note that fantastic use of color.

José was another host, and brought a touch of modern to the table.  He's wearing an impeccable white DB jacket with some cuffed blue pants.  If you didn't already know, blue and white is a great combination to go for in summer!  He keeps the motif going in his contrast collar shirt and striped tie.

Didn't get to talk too much with this gentleman, but he's definitely the king of pattern mixing.  I love this unique personal style and I wish I had his confidence!

We've taken a picture of Daniel before, but here he is as stylish as ever. His outfit is a bit of a mix between casual vintage summer wear and western wear, thanks to his awesome hat! He's got a great personal style.
Justin Jorgenson is the creator of Dapper Day.  Even though most people think that Dapper Day is all about true vintage style, that definitely isn't the case.  The website encourages everything from vintage inspired to full modern, no matter what your personal preference is.  While his outfit may not look "vintage" to most, it's actually all old couture items.  They are a rarity and a treasure in their own right!

Dapper Day Hosts!
Street Style
Now let's look at some of the other attendees!
There were more people that I didn't get to photograph and a lot more exhibits and art that I really wanted to share, but didn't have the time to! Overall, it was a fantastic event! It's not everyday that I get to dress up, listen to jazz, and be among people who appreciate fashion of all types and styles!
Big thanks to Justin for personally inviting me to be a host for this event.  If this is any indication of what my future is going to be like, then count me excited.
Thanks for reading everyone! Don't forget to get your tickets now and check out the Reigning Men exhibit! AND get ready for the next Dapper Day event at DisneylandDapper Day event at Disneyland!
Always a pleasure,
Ethan W.
Street x Sprezza
Photography by Ethan W. and Jon H.