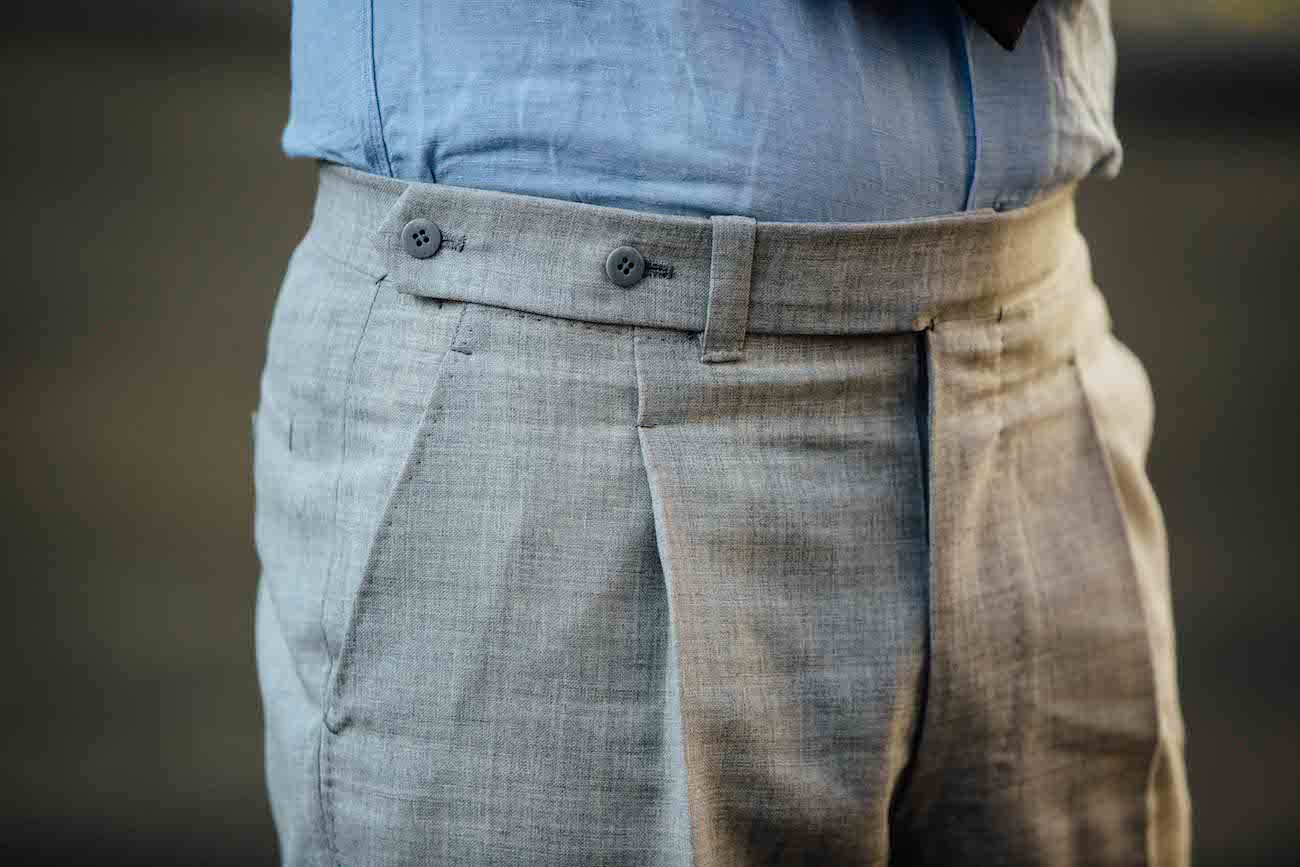 Just look at those pleats, courtesy of Permanent Style.  If you show this to any mainstream fashion guy, he'd recoil immediately.  Flat-front pants have been the way to go for the past few years.  Favoring the clean look, the mainstream #menswear community has renounced all ties to the dreadful 1990s business look.  But classic enthusiasts in the community have always favored pleats and have still had them in their trousers without looking terrible!  Here, we look at the brief history of pleats and how they have evolved through menswear.  Hopefully you'll agree that pleats are, and always have been, cool.
What are Pleats?
Having a line down the center of your pant leg doesn't mean you have a pleat. That's a crease, which can be formed or removed through ironing.
Pleats are simply folds of excess fabric, held by stitches to the top or side.  When applied to pants, they are used to add more room in the thigh/crotch area for comfort, with the first pleat folding into the center crease of the pant leg.  Think of it as form of "simple technology" in clothing.
There are two main styles of pleated pants: single and double pleat. Double pleats either have the opening go toward the fly (forward) or away (reverse).  Flat front pants, lack pleats and have a "flat front".
Pleats in Menswear
Most people assume that pleats are required for a "vintage look", which just isn't true.  In the 1920s, many men favored flat front pants, just like today!
In the 1930s and early 1940s, men had pleats included in their trousers, but only single pleats to emphasize the crease and "straight line" of the leg.  However, some fashion forward collegiate styles embraced pleats with wild abandon.  Note that all of the pants are hemmed perfectly, without any breaks.  Yes, they are wider than most pants today but they are not baggy.
Pleats were fully embraced in the late 1940s and 1950s, before leaving in the 1960s.
It's very important to note that while everything was wider in those times, all of the pants are high-waisted, sitting at or near your belly button.   This was disregarded when pleats came back in the 1980s and 1990s.
These pleated pants in the "time of excess" were still roomy like before, but most guys wore them at the hips, leading into an extremely baggy look and making their hips appear wider than they are.  This is the main reason why most "fashion-forward" men prefer the flatfront look; they want to avoid the unkempt business looks of their fathers.
While most men out there are refusing to even look at pleats, there is a small pocket of men that still rock them.  They aren't the guys who model for GQ or constantly promoting their sprezzabox ambassadorship. Rather, these are the guys who appreciate old-school tailoring, who know how to rock pleats the classic way: high rise, with no breaks.  When you rock them this way, they're as versatile as any flat front trouser in your closet!  In fact, the fantastic menswear blog Put This On has always favored the pleats.
Our Vintage Examples
As classical tailoring enthusiasts, a majority of the pleats we wear are vintage.  Here are a few examples from our archives that show you the way men wore them back in the 1930s-1940s.
Great Modern Exampes
Now let's look at some modern versions of the pleated trouser.  These gentlemen wear the pleatswell;  They don't look like struggling businessmen, constantly pulling their pants up.  No, these men know how to look good and appreciate the classical art of tailoring; some of them have always had pleats in their wardrobe.   I'm sure these gentlemen are enjoying the added room in their thighs, thanks to their pleats.  Who said you can't have both comfort and style?
The key to pulling off pleated pants is TAILORING. Every single one of these good examples are high rise, straight/slim legs, and have little or no break.  Anything else will look terrible.  It may not look like much, but having this old school detail is a great way to stand out.
You'll look cool as your pleats open as you walk or place your hand in your pocket, much to the chagrin of the sheep-minded #menswear community.  Much like the high-waist and the double breasted jacket, pleats are cool and have always been cool.
Where To Get Them?
Unfortunately, pleated pants are difficult to acquire due to the fact that it isn't mainstream to have them.  Just like the DB and high rise, the real way to get them is by going bespoke (custom made) or going vintage.  Either option can be expensive or hard to find.
Put This On has a great list of people great list of people (Suit Supply included) who offer high-rise pleated pants but many of these are out of the price range of the common man (my self included).  If you have the money, I'd personally go for Epaulet over Suit Supply, since the Gable trouser has an actual high-rise (Suit Supply has more medium rise).
If you've got the money, I highly suggest getting Ambrosi trousers.  Salvatore Ambrosi is the best dedicated trouser maker I've seen, and a majority of the pictures above are credited to his handiwork.  You're lucky if you live in NY; he makes frequent trunk shows the The Armoury NYC!
Whatever you do, please don't just buy any pleated pants off the internet and hope that they'll look as good as the pictures.
Conclusion
Pleats have a functional purpose, using its excess fabric fold to allow more room in the pant area.  While most men fear them, due to the fact that makes your hips look wider when they flare out, classical style enthusiasts have never forgotten them.  Instead of constantly condemning the old, these men look to the past and understand that some things aren't bad as long as they are tailored correctly.
If you decide to make the jump backward in fashion, make sure that you follow the cardinal rules for pulling of pleats:
Keep the pants slim or slim-straight
Keeping it tailored and classic,
Ethan W.
Street x Sprezza
Images are not owned by Street x Sprezza