Here it is, the long awaited documentation of style at Dapper Day!  I usually take a lot of pictures, but this time I was a bit disappointing with the turn out.  A few people actually didn't want their pictures taken! But the people who did accepted enthusiastically.  Expression of style and fun is the main reason I enjoy going to Dapper Day.  So enjoy some of the great outfits that Anthony and I had the privilege of shooting!
Let's start with some of of this event's best dressed.
Benny Reese from Reese's Vintage Pieces
Benny is the king of vintage.  We've explored his place before , filled to the brim with true vintage suits, ties, and hats.  Since he goes around the country, increasing his stock of vintage to sell, he acquires some of the rarest stuff.  He doesn't always go for a strictly 1930's look but Benny definitely has vintage style down, mixing different parts from different eras to make his own style!
Benny has the 1930's style going with a striped shirt and patterned jacket, but his printed tie with illustrations definitely gives it more of a 40's vibe. Note that we said that the 30's are more about geometric prints and stripes while the 40s was abstact and fun!
Gotta love that belt back action; makes the jacket much more fitted by giving it waist suppression! If you ever want to take the leap and grab true vintage pieces, definitely contact him on his page to set up an appointment!  I bought a suit from him that day:  a 1940's grey/blue gaberdine summer suit!
Louis from Louis & Gregory
We've seen Louis before, as I crowed him "the king of modern style" in the previous Dapper Day street style post!  His outfit this past weekend was no exception. He wears an expertly tailored houndstooth/windowpane three piece Ralph Lauren suit with a spread collar shirt and vibrant repp tie.  The amount of pattern mixing (three, when you count the pocket square) is amazing and almost 1930's esque; is also reminds me of the crazy pattern matching of the Duke of Windsor.
Seems that action backs are the way to go at Dapper Day!  I'm so glad that some manufacturers still get the vintage 1930's details right.  This particular belt back has a bi-swing, notated by the pleat at the arm hole area. It allows for better movement and is a cool detail to have.
I'm glad that Louis allowed me to photograph him again this year! He was a pleasure to talk to and a fantastic dresser. Like Benny, he also sells clothes!  It's not true vintage, which works for me and many of you readers who don't wish to commit to an entirely accurate-vintage style.  I don't even wear true vintage all the time and so I loved everything that Louis had at the expo. He had vintage Ralph Lauren and much more. Follow him on Instagram and contact him if you want to see what he's selling!
David
I don't know many Dandy's, as most vintage enthusiasts prefer suits, but David is definitely one. And I mean that lovingly, because I am completly in love with his outfit.  He too was at Dapper Day before, and combined accesories and textures in a very interesting way.  His outfit from the current Dapper Day is much more subdued, seeing as it's Fall, playing with darker colors suited for dinner after a day of hunting.

It's not exactly an accurate vintage outfit, but who cares? That's what personal style is all about! He has a velvet bowtie, starched detachable collar shirt, 1930's smoking jacket, psuedo tartan waistcoat, and loafers.  He would've fit in at my smoking jacket party last year! 
The Attendees
I met Glenn and Chrissy a few years ago during my first coverage of Dapper Day! They're always superbly dressed and always serve as #couplegoals for me.  I can't quite put my tongue on what they're disneybounding (if they are at all) but I love the colors they've got going on!
This guy has got some serious swagger, with his 1980's DB suit, fedora, and fun abstract tie!  Quite a delight meeting him shortly after Glenn and Chrissy.
A lovely contemporary couple who know the value of wearing comfortable shoes on Dapper Day!
Loooooving those pants!  A great way to stand out without having to wear a full suit or jacket.
A great dapper day group!
Sharp Dapper Day disneybound as Vader and Padme.  Unless she's supposed to be Emperor Palpatine? Either way its a great use of colors and accessories to subtlely dress as your favorite Star Wars characters.
This is one of my favorite groups so far! Firstly the girl looks straight vintage, due to her blouse, skirt, and use of hat and gloves! The man in the tie, looks delightfully 1950's with his abstract print and white suede bucks. The winner is the gentleman on the left in workwear.  That denim jacket is epic, worn with pleated trousers and long socks.  I feel like he should be working on a motorcycle in 1929!
Beware of hitchhiking ghosts!  Everyone here looks great.  Just wish I was able to take just ONE more shot instead of this one
ADORABLE couple disneybound as R2D2 and BB-8.  I especially love the use of the boater for R2's dome!
This lovely 1950's couple is the mastermind behind Match Accessories!  I love the ricky jacket on the gentleman.  For those of you who don't know, two-toned 1950's jackets are highly sought and are one of the coolest things you can own if you like to go for a vintage casual style.
Oh man this guy is cool.  What's not to like? The long hair, glorious facial hair, use of a scarf, and the generous use of earth tones; its all great! Caleb is one of the duo behind City Slicker's Shoeshine.  They had great business all day, but I definitely want to try them out for myself!
Cute couple, with the gentleman wearing an awesome uniform.  Those boots are to die for! I'm sure he uses it with jeans  as well as with this uniform!
Ernie's back! Here he is going for something from 1965, a slim lapeled jacket, long shirt collar, and skinny tie!
This guy was super happy and extremely friendly.  I love that he chose to wear tassel loafers with his suit!  He talked to us for a few minutes on his invention on storing pocket squares.  It was pretty cool, but I tend to wear just white ones! I think Spencer might want it though.
This gentleman from Hollywood Rogue was the man who sold me that epic 1930's leather biker jacket.  He does sell vintage, but he also makes reproduction 1950's shirts cut from original vintage fabric! He's based in Long Beach, so those of you in Southern California better take advantage of it!
Lovely light blue suit on the gentleman, but his lady's dress is what wins for me.  That banana print and coordination with the hat and glasses is amazing!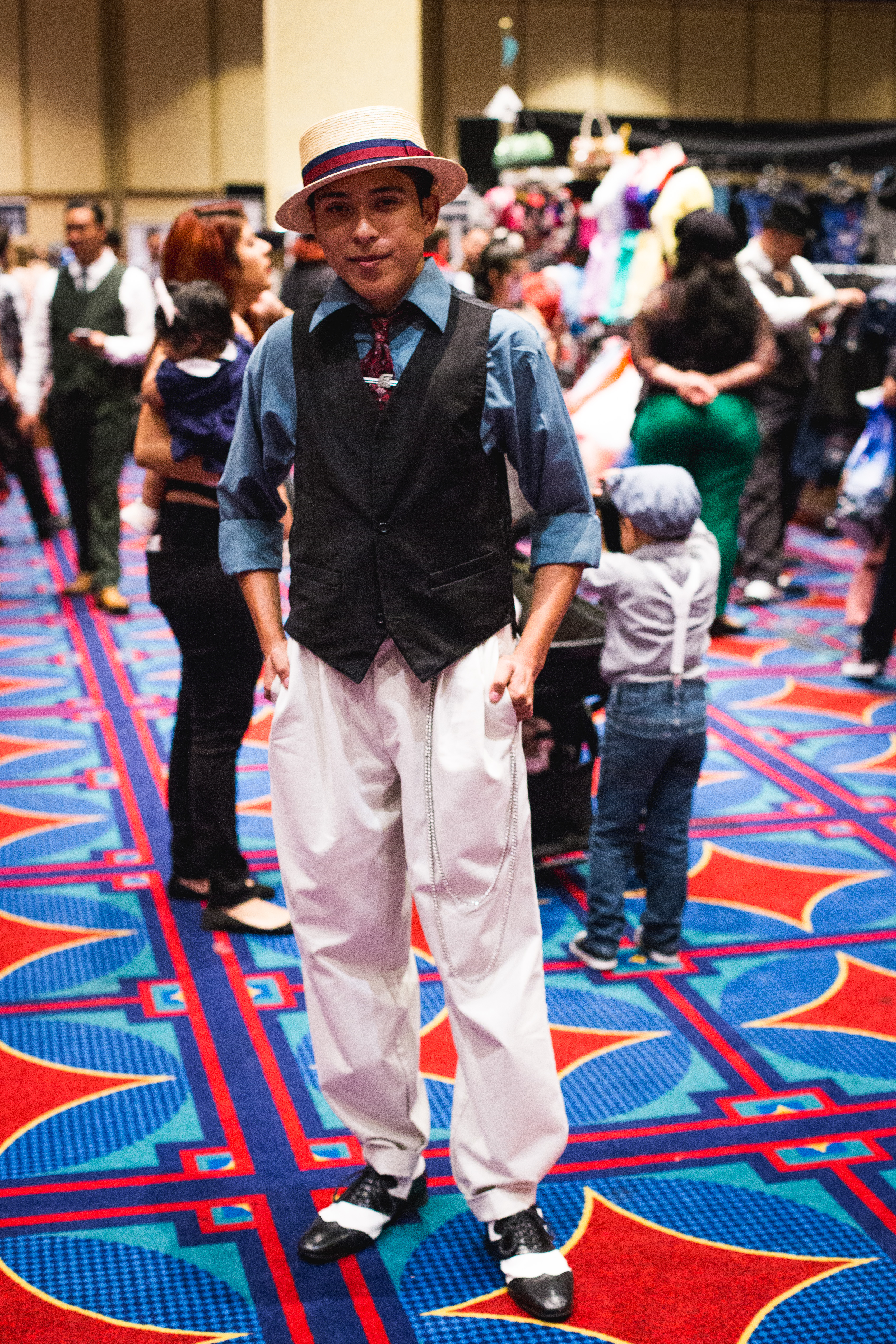 My friend Josh, doing a modern interpretation of a zoot suit, complete with long collar and pegged trousers!
Pants could use a hem, but the green color is great.  Love his hair too!
This is the guy who wore that kickass Norfolk Suit a couple of years ago.  He's backat it again with an exquisitely tailored, boldly-checked three piece suit.  Note that his trousers are high waisted and that he wears a collar bar!  Well done!
These ladies looked great!
Another foot-conscious couple looking adorable on the Mark Twain!  I really do love her floral skirt!
We finish off the Street Style post with a picture of me and Justin Jorgenson, the creator of Dapper Day himself! He wears an exquisite pinstripe suit with patch pockets; you'll note that he has a three-roll-two button stance!  He clashes the formality of the stripes with a fun, bright floral tie, which he echoes with the laces on his shoes.  Well done, sir!
I hope you enjoyed this latest edition in our Dapper Day series!  Due to the lack of participation in the park (most of the style was at the expo) I may retire my street photography of the event and focus on my friends and my outfits! Additionally, it was a bit harder this year to find people who truly stood out among the majority of attendees! However, I'm proud of the people that I photographed and the fact that they enjoyed their time is enough for me! If you think I should continue photographing the attendees, let me know by commenting below!
Don't worry, I'll still go every year!
Always a pleasure,
Ethan W.
Street x Sprezza
Photography by Ethan W. and Anthony B.