I got tired of people telling me that I can't do this, so I decided to make this article.  Long story short, you CAN put your hands in your jacket pockets. They're your clothes;  don't be afraid to be comfortable in them.  That's what sprezzatura is about, right?

For some odd reason, guys have some weird aversion to putting their hands in their jacket pockets, whether its for their suit or just a sportcoat. This idea baffles me.  Some guys even go as far as to have their pockets sewn shut to prevent the temptation of putting their hands into their pockets. I really hate that.  It turns your clothes into some other worldly object that shouldn't be tarnished. Give me a break.  What's funny is that most guys who say that you can't do this are guys who seldom wear suits anyway!  Makes you wonder where this idea stemmed from.
Now putting your hands in your pockets isn't a "looking cool for pictures" thing , it's a human thing (though I think it looks badass).  We do it all the time when our hands are cold or if we're bored.  Sure you might argue that putting hands in your trouser pockets are better than your suit jacket or blazer pockets, but that's a really dumb statement.  Your suit coat is a jacket and you put your hands in your jacket.  Doesn't matter if its a denim jacket or a parka or a sportcoat; it's perfectly okay to put your hands in our pockets.  We do it all the time.
I will say that putting your hands in your jacket pocket looks a lot cooler than the schlubby "hello I'm an American office man" pose that you get when you just put them in your trouser pockets.
One of the reasons guys like to say that we "can't" do this is because it can damage your jacket by pulling the buttons and making your pockets become warped.  I say GOOD.  Firstly, a tailor (or yourself) can easily repair the buttons and reinforce them so it won't happen again.  As for the warping of the pocket and "damaging the structure of the jacket", that doesn't really happen.   I personally haven't ever seen a jacket ruined by this practice.  Even if it was slightly beat up, I think that's fine.  Clothes are meant to be worn in and loved, so wear them how you like.   If we are allowed to fade our raw denim, let our leather jackets age, and break in our shoes, why can't we do the same for our suits and sport coats?
For that matter, what happened to the utilitarian nature of clothing?  If you put your clothes on some special pedestal, then you're not wearing your garments; the garments are wearing YOU.  In my opinion, that's worse than wearing a fedora with plaid shorts.  If we have anything to learn from neckbearts, it's that they're comfortable in their clothes.  If you're interested, there's an old thread on Style Forum that this debate.

Doesn't that just look relaxed and easy going while still maintaining the "cool nature" of sartorial clothing?  You don't need to be cold and posh if you're wearing a suit or sportcoat.  Spencer and I certainly aren't like that.  We try to give off those casual personality vibes by putting our hands in our pockets; it makes the jacket actually useful and just brings you down a peg.
The fact is that the pockets are there for a reason.  You should use them as you would a regular pocket on a casual jacket.
You can do it for casual jackets and coats right?
Okay, if guys can do it in coats and jackets, why can't we do it for our suits and sportcoats?  It serves a function: hides idle hands by giving them something to do and keeps them warm!  These coats can cost more than a suit, so price really isn't an issue.
Wear it with sprezzatura.
Okay, you might argue that the clothes that Spencer and I wear are old and it doesn't matter what we do.  However, even if clothes are new, cost more than $2k, and are bespoke, you can STILL PUT YOUR HANDS IN THE POCKETS.  These suits worn by my style icons contain some of the best sartorial handiwork in the world.  Instead of standing pristine and unmoving, they are natural with their garments. Note that they don't lightly put their hands in their jackets.  They freakin' fist those pockets. They don't give a damn and neither should you.  These are men who own their looks and their clothes.
Just remember the concept of sprezzatura.  It doesn't mean wearing boldly colored suits or white pants with sockless oxfords. The term really means making style look effortless and natural as possible.  There's something about putting your hands in your jacket pockets that just make you look so at ease and comfortable.   It's much better than posing like Barney Stinson all the time.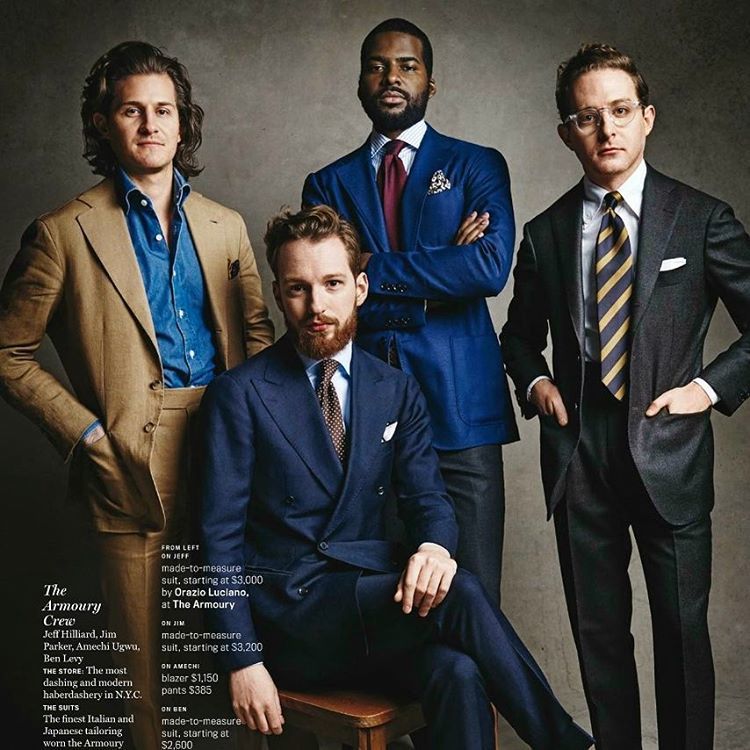 Don't think for a minute that this is just a modern trend of "hipster" menswear.  Guys have been doing this since the 1920's.   The mentality back then was the same: these are your clothes and you should be comfortable in them.  Don't think that guys in the 1920s-1940s were perfect all the time just because they wore suits more often than the everyday man in today's world.  Even if they had just one suit, they wore it to hell.  Quite well, I might add.
And here is the result of a well worn, hand-pocketed suit: droopy pockets that add character to your garment.  Sure, the jacket may not be "perfect" anymore, but the suit as a whole is still intact!  Now it looks well worn and loved.
Conclusion
I might be biased at this point, but I think putting your hands in your pockets looks cool.  You look at ease and natural; it's much better than putting them in your pants pockets (especially if they are low rise, ugh). However, it's not just about the aesthetic of the photo.  This post is to remind you to use the functionality of your suit or sport coat.
When you buy a suit or sport coat, cut open the pockets and use them. Put your hands in them when you're bored or if you're cold. Put newspapers in them. Put your wallet or phone in them.  These pockets are there for a reason, not as decoration.  Don't put your garments on some high pedestal simply because it's a suit and it cost a lot of money. People already make fun of guys in suits for a multitude of other reasons.  There's no need to add snooty to the list.  Why not be comfortable and natural in your suit and prove to guys that tailored garments can be just as easy-to-wear as jeans?
In the end, it's just fabric.   It's no different than a denim jacket or a parka.  It doesn't matter if your suit is one that's 60 years old and bought on eBay or a $5k Liverano hand-made bepsoke garment, you can definitely put your hands in your jacket pockets  Whether its jetted, flapped, or patch you CAN do it.
In the end, you'll do what you want.  If you want to keep your suit "holy" for reasons I can't possibly fathom, you do you. However if you aspire to look as natural in your suit and tie as possible and be comfortable in your clothes, then do it!   That's the real essence of sprezzatura.   I'll close with a quote by legendary menswear writer Alan Flusser:
"I think it's a sign of style to use them…Look at the champs of style – one invariably sees photographs of them with their hands in their pockets. These men are not afraid to use them."
Always a pleasure,
Ethan W. 
Street x Sprezza