I went to NYC and had two evenings and one full day.  Not enough time, but it was wonderful either way.
As you may have remembered from my Friendsgiving article (and some Instagram posts), I was being sent to NYC for a week thanks to work with Ascot Chang! I'm not going to get into my work responsibilities on my blog, but it was basically an opportunity for me to photograph a different store, more products, and cover an exclusive client event. Since I was there for work and not staying in the city, it was a little difficult for me to explore as much as I ideally wanted to.   After all, I was here on business, not on vacation.  However, I did have a bit of free time during my lunch breaks, certain evenings, and all day Sunday.
Something that I've always admired about big cities (like London, for a recent example) is how great public transportation is.  The train can take you almost anywhere, with only a few minutes of walking in between your station and your destination.  As a guy from the Greater LA area, I'm used to living in the suburbs and driving everywhere, whether it's to a museum or to grab a burger at McDonald's.   Thanks to Google Maps, I got around pretty well, though I'm sure that if I was here in the 80s or 90s, I'd be completely lost.
Now, here's a brief photo-diary and recap of what I did in my free time during this business trip.  Obviously some of the major tourists and menswear destinations remain unvisited, but that just means that I have even more of a reason to come back.  Hopefully it'll be for a real vacation and I'll be staying in Manhattan.
Tourist Stuff
Central park is great.  Ascot Chang is right on Central Park South, so it was completely ideal for me to take a walk on my breaks.   I can't think of anything even remotely close to this in LA since everything is so spread out.  Plus, I don't think Rodeo Drive (where the Ascot Chang LA store resides) makes for the same experience. Here's some pics I took during my walks!
I also took some pictures with my iPhone and posted them on my story. Funnily enough, Chase (who works for Drake's) saw that I was in the area (thanks to my constant social media updates) and decided to meet up with me since he was finished with his lunch.  I'll show you more on the companion article that will go into the actual menswear I encountered.
Oh yeah, I also had Belgian food! This amazing sandwich(?) with ricotta cheese, prosciutto, and pear slices was from Le Pain Quotidien.  It was delicious and I wish I could've had more; most of my food came in the form of Chinese Food, Pizza, and hot dogs.
To start my full free day on Sunday, I went to The Met. I'm not the biggest fan of contemporary art, so I decided that I'd visit the MoMA the next time I come to NYC, whenever that is.  Luckily for me, they had three great exhibits: Michelangelo, David Hockney, and a smartphone photography project.  Okay, the last one is pretty modern, but I still enjoyed it.  After checking out those temporary exhibits, I walked through a bit of their permanent collection (American and European art, specifically).

Kamakura Shirts 
As a fairly new convert to the Ivy look, I knew that Kamakura shirts was a must.  Luckily they closed at 8PM and I got out of work at 6:30 (on Friday), so I was able to check out their small showroom in Madison avenue.
Started in 1993, by Yoshio Sadasu, this company is dedicated to bringing classic menswear to the world with Japanese craftsmanship and affordable prices.  The Ivy league style is the backbone behind the brand, and you could definitely tell due to their selections of OCBDs and a generous collection of repp ties.   You can read more about them on their official website.
Shirts come in two different styles, with the Tokyo being their main one and the New York variation a little different, featuring a longer body and longer sleeves.  Both of these styles come with classic and slim fits and are sized according to neck and sleeve measurements.  Based on the measurements taken by the store manager Saki, I was a 15 3/4 neck and a 34 sleeve. I wanted a classic fit, but I ultimately purchased this shirt (in the Tokyo slim fit) based on their recommendations and how it fit on me.  Unfortunately, they did not have the specific classic university stripe OCBDs at this time, so I may have to order online.
At only $89 (with overall prices from $79-99), that isn't bad for a quality shirt.  Don't waste your money at the mall!
They also had a small shelf for their Vintage Ivy collection.  They differ from their normal offerings since they are made with much softer collars, a shorter length (so it can be worn untucked), and a much slimmer fit. These shirts come in S-M-L and I could barely fit into the medium.   Also the collar didn't roll as much as the one I purchased, so I didn't get a shirt from this collection.  That was pretty unfortunate, since I loved the oxford tab collar and their denim shirt.
In addition to making button-down collars, they also had quite a few "normal" models.  This spread collar wasn't too bad and I almost walked out with it, especially considering that this blue-with-white-stripes shirt is one of the coolest things I have ever seen.  I really need to get one made for me in a spearpoint from work!
Shout out to Saki, the store manager, who was extremely patient with me despite my numerous questions on the fit and inquiries on their OCBD stock.  If ya'll wanna try them (or just visit), they have my recommendation.
Drake's
I will always be impressed by how far Drake's has come, especially concerning my recent foray into contemporary-classic menswear.  This British brand started out as a tie manufacturer and has branched out into selling their own private label knitwear, shirting, and tailoring.
Drake's is distinct to me, as they blend british styling (very ivy-inspired jackets, shirts, and ties) with soft, Italian-inspired construction.  Even so, their unique-ness doesn't end there. Collaborating with models, artists, photographers, and writers, they've forged an interesting community, which has culminated in their  recurring "booklet" named the Common Thread, which is what they've called their editorials on their website.  I can't think of a brand that has come close to doing the same thing.
The NYC Drake's store is found on Crosby St, right near the Spring St. Subway station.  Surrounded by a photogenic neighborhood (brick road and wooden benches), it's really a prime spot for young classic menswear guys to visit.  The staff there are all wonderful and made me feel at home.  As I've stated many times, menswear where I live is dead and as a result, there really isn't a store here staffed by young, passionate guys who just exude classic menswear without overtly selling you something.  You won't find a group of non-vintage dudes in high-rise trousers here in Los Angeles.

As a guy who loves ivy tailoring (with some obvious 30's nods), I am in love with Drake's jackets.  All of their pieces feature a 3-roll-2 stance with great medium-wide notch lapels and patch pockets (perfect for stuffin' your hands into). They differ slightly than most vintage sack jackets I own, as most of my ivy jacketing has slimmer lapels (as was the norm in the 1960s) and aren't as soft in construction.  I actually prefer the Drake's ones since I like wide lapels and patch pockets, both of which are hard to find as true vintage options.
Unfortunately, $1.2k (starting price for an Easy Day suit, $1.4 for odd jackets) is much too high for myself to afford.  That didn't stop me from trying it on! I decided to wear one of the jackets that I've been eyeing for a long time:  the single breasted camel glen check.   You guys know I love brown jackets, and getting something brown with a little bit of pattern and texture is the ideal Ethan jacket.    I tried the 38, though I felt like it was a little long for me; a 36 would have been too small, I'm sure.  Other than the length, the fit is spot on, with extremely soft shoulders and clean drape through the body.
I'll probably thrift a jacket like this one in the meantime.
You may remember a shirt with a similar collar from my first ever Drake's visit (to the Clifford St. shop). After talking with Chase, this shirt collar is basically a soft OCBD collar without the buttons.  If you look closely, you'll notice that the shirt has a slight spearpoint curve to it, which you can actually see on OCBDs.  They say that this shirt is popular for guys who like to pin their collars, but that's why I go with 1930's-style spearpoints.  Vintage ones tend to have less of a spread and a slightly more dramatic curve.  However, the Drake's models are a great way to try out the look if you don't want to go full vintage.
Obviously the ties are the main star of the Drake's product line, cut from a variety of different silk and wool treatments and with amazingly printed designs. You might notice that they have a lot in common with 1930s-60s ties thanks to patterns and finishing (both tend to have untipped edges).   Drake's is the leader in that vintage-meets-modern necktie aesthetic.  You can't really find repps, foulards, and prints like these anymore!

I almost walked out with a brown dot tie (seen above) and a navy grenadine, but I decided against it since I literally have hundreds of ties.  Instead, I bought a sleeveless cardigan that simply called out to me while I was in the store.  I sized down to a 36 in order to make it fit for high rise trousers.  Honestly, I was debating between a navy one and the wine one, but I went with the wine after the Drake's crew told me that it was the better buy.  You can expect a new article on the Drake's uniform coming very soon.
Menswear Dinner
I visited the Drake's store twice ( Friday after work and on Sunday, my free day) and on Friday evening, the guys invited me out for dinner.  Three of the Drake's boys (manager Mat, Chase, and Alex) and I were joined by their friends Thom and Fred.  And by Fred I mean FE Castleberry,  the famed blogger-turned-designer.   It was unreal for me since Fred's photography for Drake's has certainly influenced a lot of my own work in recent history.
We walked a few blocks to Fanelli's Cafe where three of us ate fish & chips, two of us ate burgers, and Mat got an omelet.  It was one of the best nights I've had in a while, since I've never really hung out guys who both love and work in menswear (let alone, famous brands).   Sorry Blake and Spencer.
The Armoury
You just know that ya boy had to visit The Armoury.  Located in Tribeca (a short 15-20 minute walk from Drake's in SoHo), it is literally the shop that was responsible for my transition out of vintage-only into a vintage-meets-contemporary classic menswear guy.  I got there at 5PM with only an hour to spare, but it was all worth it; there wasn't anyway that I was going to have an NYC trip without going to The Armoury.
The shop itself is quite large (I heard that it's a converted townhouse) with a long sales surrounded by racks of RTW Ring Jacket & Orazio Luciano on one side and shirts, ties, & shoe boxes on the other.  They have also have a small loft where they showcase more of their shoes and have a display of menswear books/magazines and some beautiful watches.
It was pretty nerve wracking going to the Armoury just based on all the expectations I've built up, including the fact that these guys are quite literally style celebrities.  Compared to Drake's, I'd say that the Armoury has a more reserved, "mature" environment, which probably has to do with the clientele difference.  Sure, they both might be pricey compared to anything I'm used to, but there's quite a difference between great RTW/MTO and bespoke from traveling artisans.  However, the staff (Dan, Ben, and Amechi) were perfectly welcoming and handled my fanboy-isms in a professional way.
I don't go out and buy shoes often (most are thrifted/eBay-ed), so seeing new shoes from Bedouin & Lange, Alden, and Carmina (as well as the newly launched Armoury house models) was quite the experience. Perhaps the next stage of my style evolution will involve footwear.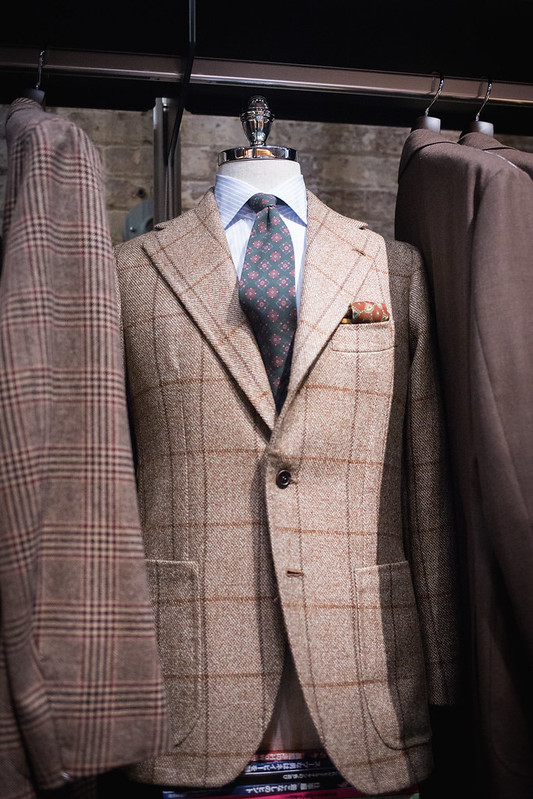 Okay, tailoring is the main focus of this blog and I had to give their RTW options a try.  I didn't have much time, so forgive me for not reviewing any of the Ambrosi or Rota RTW; I simply tried on the jackets.  I'm not sure if there was more, but the main RTW jacketing they had was through Ring Jacket and Orazio Luciano, with the former having a special Armoury model.
Amechi was wearing Orazio when I met him (pictures are in the supplementary article) and I felt like an idiot when I asked him how the MTM and Bespoke Orazio options differ.  For those of you who don't know, Orazio only does MTM and RTW; I felt like I should've known this.
The first garment I tried on was an AMJ-03 Ring Jacket sportcoat made up in a Black Sheep Wool Houndstooth. As you can see in the picture (and the product link) the jacket has soft, unpadded shoulders and an enlarged sleevehead to provide a "masculine" silhouette.  The lapels are straight and roll nicely into a 3-roll-2 configuration which interestingly has buttons that are close together.  I felt that the jacket was just a little long for me, but Dan and Derek (a friend who joined me on my adventure that day) said that it looked pretty perfect.  It was extremely comfortable and is almost exactly the fit I want, especially in regards to the shoulders.
Next was the AMJ-06, the Armory's DB model from Ring Jacket (which had AMP02 trousers), made up from wool flannel cloth by Vitale Barberis Canonico.  I was in love immediately.  The lapels are slightly upturned (still almost horizontal) with just a hint of lazy-peak while the buttoning stance is wide and slightly lowered, a lá 1940's designs.  You will note in this article that lapel design and button configuration are hallmarks of true Golden Era vintage (1920s-1940s) aesthetics, and this RTW garment quite nearly hits it.
The AMP02 trousers are pretty great, featuring a RTW high rise (which is hard to come by) and single reverse pleats.  I will say that they are slightly slim for my tastes, especially in the thigh area, which is normally where I run into problems.  I can't recall for sure, but I think that there is enough allowance in the leg to fix that, if I wanted to purchase the suit.
Lastly, I tried on a Orazio Luciano jacket that was one of the softest things I have ever worn.  I can't remember the cloth (and I can't find this one on the website) but it was some herringbone wool that barely had any structure or lining.  Like the Ring Jacket model, the shoulders are soft and extended except that this one features more of a la spalla camicia.  Also I prefer the notch lapel treatment on the Orazio since it's wider (with a wide notch), though I prefer that the gorge line be placed closer to the breast pocket.
All of these jackets were lovely and it took a little bit of willpower to prevent me from spending my savings on them.  I'm sure at some point in my life I will be back and ready to buy!
I want to give a shout out to Dan for being extremely welcoming and putting me at ease during my short visit to his store.  Like I said before, the Armoury has been a "holy land" of sorts especially since I live in LA, a place that I feel is so far removed from classic menswear.  It was intimidating and unreal for me to finally visit a place that I had only seen on tumblr and instagram.  Being a great guy, Dan answered all my questions, let me try on the jackets, and really was a testament that these all these guys that I've followed are just nice, regular dudes like you and me.   He really made me feel at home at the Armoury.
Crowley Vintage
My last stop was Crowley Vintage in Brooklyn, operated by my good friend Sean Crowley.  I first heard of Sean by reading the book  I am Dandy which one of the catalysts that brought me into this world of vintage and contemporary menswear.  Working previously as for Bobby From Boston and as a designer for a variety of places, he's finally opened up his own vintage shop.  After spending my time in the world of contemporary menswear, it was nice to be somewhere that was familiar to me.   There's a bit of everything in the store, so here's a small sample of his wares.
So far, it seems like a place that Ethan and Spencer would shop at!
I stayed at this clothing rack for almost the entire time.  At the time, jackets and suits weren't sized, so I had to simply try on whatever I wanted.  A lot of them were too big for me, but I was in love with all the patterns and fabrics.  It was a mix of 1930's suits with some vintage Brooks and J. Press to even a few Polo Ralph Lauren from the good days.  I ended up buying a light brown plaid 3-roll-2 jacket (vintage BB) to make up for the one I tried on at Drake's.
This 1930s-1940's number was easily one of the best items in the store.  With perfectly droopy notch lapels, patch pockets, and a gorgeous basketweave (with blue window pane), it took everything I had to not immediately walk out with it .  Thankfully, I tried it on and found that it was a little too snug for my tastes.  Still, I could definitely use it to reproduce someday…
Even though I was so late in getting to Brooklyn, Sean was kind enough to keep his store open for me an extra two hours so I could look around.  We ended up having a great conversation that eventually took us to near by seafood restaurant for dinner.  I don't normally eat seafood, but the lobster rolls were a-freakin-mazing.    We talked about everything from our menswear roots to musical tastes to my SDA upbringing.  He's a really great guy and I'm glad that the internet allows us to be friends!
You can DM him on instagram for store hours, because I'm pretty sure it's only going to be open on weekends and by an appointment basis.
Conclusion
The conclusion is simple: I needed more fucking time in NYC.  There's still so much I didn't get to go: Articles of Style, The Chipp Store, the Polo Club, the J. Press store (in the Yale Club), and a bunch of other general touristy stuff.  However, I am extremely grateful that I had the opportunity to visit the ones I did have time for and I definitely made the most out of it.  I had a wonderful time looking at the clothes (and people) I had only previously seen as just pictures on the internet.  There's nothing like making that image come to life.
A lot of people  during my trip did ask me if I would ever consider moving to New York.  While I did enjoy the menswear scene (and the city itself), I don't think I could permanently move my life there.  Public transportation is great, the food is amazing, and the ability to actually go to a sample sale is unparalleled (I missed out on the Eidos one, as it was the day after I flew back home), but I'm really not a city person.  Hell, I don't know if I could even live in the heart of Los Angeles.  I've grown up and lived in the suburbs my whole life and all my friends here are the same way.  And while a car is expensive to maintain (insurance, loans, gas), I do like driving and listening to music; I'm not really a headphones guy either.  Perhaps this sentiment will change as I get older and mature, as I feel that I'm just fresh from college and not ready for the realities of living alone in a big city.
One thing is for sure though: I am coming back to NYC soon.
Always a pleasure,
Ethan W.
Street x Sprezza
Photography by Ethan W.