It never really rains here in Los Angeles. But when it does, I have a definite love/hate relationship with the precipitation.
The past few weeks of rain inspired me to finally write about it!
Ah yes, the rain.  Like most menswear guys, I do have a small affinity for it since it allows you to layer up (since it's almost always accompanied by cold and rain).  Who doesn't want to be like Bogart and put on that trench coat and fedora?  LA doesn't rain much, so when it does, it's the only time we can get our gangster on.
But then there's the non-fashion aspects of rain.  There is the horrid driving (which recently cost me my car), the fact that it can get messy, and that I always have a bunch of bags full of electronics which makes it hassle to get around.  So as much as I want to look all cool in a flannel suit and overcoat, sometimes it's just best to be lazy and comfortable.  Plus, this is the arrogance in me talking, but it's pretty tough to take pictures in the rain (pause for your generous eye rolls).
With that said, the more and more I get into this world of menswear, the more I want to be intentional in my dress.  If you know me at all, I definitely abhor making "lazy" outfits; I want to walk out the door in an outfit that I'm proud of, whether it includes sweatpants or not! So this has lead to me trying to make a bit more interesting rainy-day outfits and not relegate myself to just random shit just to "deal" with the rain.
For a while, I only had one coat: this 1940's raglan sleeve number to deal with any elements..  It's nice, but I typically don't like wearing vintage wool overcoats since it gets musty once in water.  Plus, it becomes more like a soaked blanket if it rains hard enough, as the wool will retain the water instead of repel it.  And even then, it may not be enough, as I learned during the day I actually bought a trench coat and it was absolutely torrential.
With all that in mind, I still was determined to gradually upgrade my rain attire over the years.  And I'm come to the conclusion that making looking stylish (if that is what you want) in the rain means two things: 1) you should have inspiration in mind and 2) don't be lazy.  That's just how I go about it since, without inspiration to work form, I'm tend to fall back on what's comfortable and uninteresting. Over the years, I've amassed a lot of sources of inspiration and decided that I would finally start dressing like the guys I wanted to look like. You can probably tell which images from from my cache and which ones come from Spencer (though we share some of the same taste).
I'm a huge fan of more coat-heavy, suited looks because my passion will always be the tailored side of menswear.  And if you'll notice, almost all the coats are the classic silhouette:  a bit roomy and very long. It doesn't make sense to have a tight and short coat  since it won't protect much against the elements or be able to layer effectively.  Personally, I think a good coat (whether trench or overcoat) should be versatile enough to work with both formal and casual attire.
Spencer's rain inspiration is a bit more casual than mine, taking its roots from ivy, workwear, and militaria.  Instead of long coats, his are more in the "jacket" variety, meant to be worn more with chinos and denim rather than suits.  It's important to remember than in the 1960's, as college students were looking at surplus stores for their chinos, they began to incorporate military anoraks, parkas, and field jackets to be used instead of their dad's coats.  This was also around the time  when the single breasted balmaccan and mac became more popular than the double breasted models we saw in earlier periods.
Also, just keep in mind that some of these inspo pics are overcoats rather than strictly trench coats or technical fabrics. And you'll also notice that not all of these pictures are taken during a downpour.  But that's okay, it can still gives us inspiration for our own rainy day outfits!  The pod goes into more detail on this note.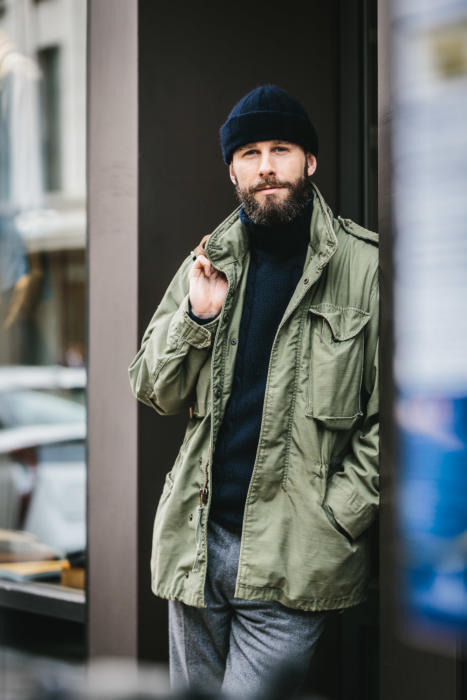 Our Attire
Now here's where we put our mouths to where the money is. Again, this isn't really a guide to what to wear in the rain, but rather just things we typically put on for precipitation.  Plus it's not raining in every picture (obviously).
As I explained earlier (and in detail on the pod), we typically wear stuff that is comfortable. This means less trousers and more denim and chinos, since it doesn't really matter if those get wet; if they're hefty, like selvedge from Thee Teen-aged, then they probably won't get wet!  Sweaters are used in place of a tie (and most sportcoats) since it's casual and easy to wear. We leave our dress shoes at home (mostly) and prefer wearing boots since they cover the ankle and have rubber soles to combat the slippery streets.
It's gotten a bit better as Spencer and I have gotten more ivy-casual staples that allow us the freedom to make interesting outfits without resorting to something boring.  A lot of that has to do with our outerwear choices, which is the meat and potatoes of this article.
Vintage M-43
Spencer and I both own vintage M-43 field jackets, which are one of the first things we grab when it rains.  I've talked about it a bit before, but its nice to see it in this context.  It's one of the first field jackets, made from a sturdy olive cotton (not waxed). The pocket flap pockets are huge (ready to hold everything from gloves to a compact umbrella) and there is a waist-cinch for figure.
It doesn't do much in terms of warmth, but it does well to protect against the rain thanks to its heft.  I haven't had it "soak" on me. In terms of styling, it's perfect for casual or ivy-esque layering, considering the fact that many students used military surplus for jackets.  I like the idea of wearing it with a suit,  but like I said earlier, outerwear is best for use with separates like sportcoats, sweaters, and chinos/denim.
I mention this in the podcast, but I try to avoid wearing a bucket hat (which is one of my favorite things to keep out the rain) with it since it gives off Vietnam-reinactment or fisherman vibes.  A knit cap is always preferred, but I have done it with a fedora.
Vintage Trench Coat
I would be remiss if I didn't talk about my true-vintage trench coat! It's probably the most meme-worthy menswear piece I own (besides my fedora) but I love it, despite not really feeling it lately.  Like I mention in the original blog post, it's incredibly lightweight (not good for cold) and acts primarily as a cotton shell for the rain. This is in sharp contrast to Spencer's (not pictured) which has shoulder padding and is made of a heavy wool gabardine, effectively making his like a belted overcoat.   My pockets are functional, but it has a passage to go through the jacket so you can get to the goodies on your person.
The main reason I don't wear it very often is because it skews formal.  I don't mean in terms of color (though light brown is def hard to wear), but in terms of outfit pairing!  Due to the trench coat's double breasted and belted nature, its really used to lean into that Casablanca aesthetic with suits and fedoras.  I can't really imagine wearing this coat with denim or even a tee shirt, which is why I seldom break it out.
J. Crew Barn Coat
The barn coat is one of my newest pieces (gifted by J. Crew for that event I did) and it's been getting a lot of wear lately.   It's another piece clearly fueled by my dive into ivy/prep that you must have noticed by now!
The design is fairly similar to a chore coat: 4 button front, flat laying collar, and hip patch pockets.  This makes sense considering its a barn coat, as a nod to farm workwear (or prep outerwear) back in the 1980s.  I like that it has corduroy collar and cuffs which contrast with the vibrant color of the coat; the red reminds me of saturated trench coats or even as a nod to the red plaid mackinaw jackets worn in the Golden Era.  The coat is also "blanket" lined (a brushed plaid cotton) which helps keep things warm and acts as an extra layer to keep out the elements.
While this barn coat works best with casual ivy stuff (think jeans and sweaters), I like the idea of it worn over tailoring.  It's something a little bit different that still is acceptable since the coat length is longer than a typical sportcoat. Here it's worn with tweed, a workshirt, and wool knit tie: all casual forms of tailoring.
The fedora was a conscious choice since you could call it formal version (of sorts) of the bucket hat as it has a full brim.  It's a pretty great choice for rainy day attire, but can be difficult to wear since it's formal. I have come around to breaking it out more often, however.
As I've stated many times before, Spencer has been leaning hard into the workwear/ivy mix lately, so tailored outfits aren't really the first thing he thinks of.  Trading overcoats for more casual items (like the field jacket and this barncoat) is basically how he deals with the rain.  Instead of the bucket hat or fedora, Spencer opts for caps, in both ball and military varieties.  He's a college student, so it's a bit easier to wear style-wise and still provides protection from the rain.
UniqloU BlockTech Mac
Last, but certainly not least, we have the Uniqlo BlockTech rain coat. I know a new one came out in February, but this one is from the 2018 season.  Made from their technical fabric that repels water and wind, it's pretty damn near perfect.  Like my trench coat, it acts like light weight shell, meant to be worn other layers when it's cold.  In terms of design, it's close to my 1940's raglan sleeve coat (it is a mac after all)and has a medium size collar. I sized up to a medium in order to have a longer length; I don't really mind the long sleeves, extended shoulder, or room in the body.
One of the major reasons I like it is because it's more versatile than my other long coats.  Firstly, it's not hefty like the wool overcoat, so it's perfect for the climate here in Los Angeles.  Secondly, the single breasted closure and dark blue color makes it more casual in my eyes, especially when compared to the classic belted trench coat. The BlockTech Mac looks fine worn open and without the fussy belt, it'll be great for separates, suits, and sans-sportcoat outfits like the one above.
While Spencer has a small collection of military caps and Ebbets field vintage-designed ball caps, I only have one.  I got this from a friend who owns a film costuming warehouse as a gift, since I purchased a few vintage pieces from them.  I don't think it's a production cap worn by crew of the 1993 film; its probably something you could buy at the gift shop. Still, it's a pretty cool "dad cap" that I love breaking out on lazy/rainy days.  When worn with an overcoat and tailoring, it has a bit of that NYC vibe that is missing from LA.
I've had this cap for two years by now, but I would be lying if Chase didn't inspire me to wear mine more often.
Conclusion
I was inspired to write this blog post simply because I get a lot of questions about what to wear in rain.  I don't really believe in guides, but I do like when I get to write about the images that inspire me and how that translates into the pieces I already own.  Obviously you don't have to pick same items that we have!
Unfortunately, I don't have many rain outfits to share with you guys since I prize my camera over the daily fit-pic.  However, I do hope that the photos of our style icons help with helping you guys come up with your own interpretation of rainy day attire.  Somedays I actually feel good enough to wear coats and suits and others I like to lean into the ivy-casual aesthetic and pile on the separates.
Basically, my main advice for a rainy-day outfit (or any outfit) is to start with the inspiration.  If I don't have inspiration, then I don't have any desire to dress up, which resorts to me being lazy.  As I mention in the podcast, I find the rain a bit of a hindrance on my daily life, so it helps that at the very least, I'm proud of the outfit that I've created.  This doesn't mean just wearing any outfit to spite the rain (as I almost nearly do since it's nevert too harsh in SoCal); it should at least be conscious of the elements.
Always a pleasure,
Ethan W.
Street x Sprezza