We may not be able to hang out and dress up with friends in real life, but luckily my friends and I all have a game that allows us to do that on an island paradise.
And to my surprise, the clothing offered was amazing. Even better than my own closet in some cases!
Introduction
I'm not really much of a gamer, at least compared to my friends. With their days full of Overwatch, the FF7 Remake, and a reinvigorated passion for MapleStory, I just didn't think that occasional games of Star Wars Battlefront II (2017) and Call of Duty: Modern Warfare (2019) doesn't really stack up in my eyes (especially on console). There isn't much creativity or freedom within the games I played:  you jump in, you're in a faction, and you fight the other.  It all seemed to casual or even basic for the gamer moniker.
Honestly, RPGs and strong campaign games never really took me.  They always took so long; I just wanted  to play a game or two and then get off.  It's something I thought I'd break out of as I got older, started working, and explored other hobbies, but it actually came in reverse in recent years.  Maybe as I've looked at how my lifestyle has differed from other menswear guys, I found that I really did like video games and wasn't ready to give it up.
Becoming older brought more free time, which meant hanging out with my main (non menswear) friends.  I got better at Smash Bros.  I started playing Warzone Battle Royal on COD.   I bought a Switch and with it came Mario Kart and Crash Team Racing; not exactly FPS, but in the same vein in that a quick race or cup was enough for me.  Then quarantine hit.  Suddenly I was left with a lot more free time, in between what work I could do of course.  Perhaps that meant it was time to expand my video game horizons. To something new.
Animal Crossing:  New Horizons
I had actually never played an Animal Crossing game before.  While it wasn't an RPG (a genre I have yet to truly enjoy), the AC series just seemed like a time suck. I wasn't familiar with it until recently, but to me, it appeared to be similar to the Sims or Roller Coaster Tycoon, where you build a society and view over them like a god. The fact that there didn't seem much in the way of multiplayer was also a turn off.
Then I was hit big hype over the newest edition. My friends all had it. I saw it all over Tiktok.  I realized I was wrong; you weren't an omniscient god in this game.  Instead, you were a villager within the society, helping set up houses, gathering resources, and playing with neighbors, eventually leading you to create an entire town that can be completely decorated anyway you like. There was even online multiplayer! I was intrigued, since it really reminded of my old days of the Virtual Magic Kingdom, where it was like Club Penguin but for Disney.
A real draw for the game (to me and others) was just how cute/wholesome it was.  If you look at the pictures, you'll see that the avatars and (nearly) all the animal villagers and NPCs were simply adorable.  They're all so friendly and helpful, ready for conversation as you play. This made the game a bit more fun and  less serious compared to the Sims or any of the other games I had played before. But that wasn't all that I was into; there was fashion too!
As a Japanese-developed game, it's no surprise that they put a lot of detail into the clothing.  Unlike other games that make you wonder if the studios even know what clothes look like, Animal Crossing gets it right. The tones, the textures, and the details were all done exquisitely. Camp collars, cable knit sweaters, wide leg pants, and  bucket hats all abound, clearly due to Japan's fascination with Americana. Workwear, prep, streetwear, or just minimalism is all represented in a way that feels genuine and wearable, made even better when they're worn by such cute characters. It was like seeing  every style I saw during my Japan trip, but in an incredibly charming handheld video game.
I just really enjoy how much effort they put into the clothing. The "deserted island" theme is shown by Tom Nook and Isabelle wearing printed alohas and shorts. Villagers all have their own unique pieces that match with their personality, with them even changing into bucket hats and raincoats when the island rains.  It's all cartoony, which not only plays into how cute the clothes look, but also the fit; all the garments drape well and even feature no-breaks on the trousers.  I could only wish that my real life clothes fit me that well off the bat!
Of course, you can't just dress exactly the way you want right off the bat. You first get to order clothes from the Nook Shopping kiosk, a mail order application that only has a few pieces of clothing.  Then, as your island gets more developed, Mabel starts to make trunk shows, showing a small yet more expansive collection.  If you keep shopping from her, she eventually opens her own stand alone shop on your island, where you can browse a full assemblage of clothing.  The clothes are random and change daily/seasonally, so it's best to check in everyday, especially on your friends' islands as well, since they may have a different selection than you do.
The game allows you to wear one of each type of clothing at a time: top, bottom (or full body), hat, glasses, accessory, socks, shoe, and bag.  Unfortunately, this means you can't layer on top of each other; for example, you can't put a leather jacket over a sweater.  You also can't customize things like ties or shirt collar, as you only have the options in the store to choose from. It's a bit frustrating, but that just means you've got to be a bit creative! They have plenty of other tops and pants in the game to choose from.
The limited (but still cool) clothing options gives way to an alternative method of dressing yourself: custom designs.  By using the in-game designer or third-party website, you're able to to design custom tops and hats for your character.  The former typically takes the form of a tee, hoodie, or full-body dress/robe which does lead to a bit of fun with creating.
The first ones I saw were novelty pieces like X-Wing flight suits or Naruto robes, but after joining the ACNH subreddit, I began to see much more convoluted garments.  Almost all of them were streetwear themed, using the rudimentary pixel designer to approximate Supreme hoodies and Carhartt beanies.  Honestly, they're really quite good, working well with the already dynamic selection of pants and shoes in the game proper.
The design-app in game wasn't' really suited for me though. I didn't really feel the need to spend time trying to approximate DBs and sack-jacks in the game.  The slightly pixelated lines and details don't really translate well to classic menswear.  Plus the game already has a plethora of in game clothing, which you will soon see.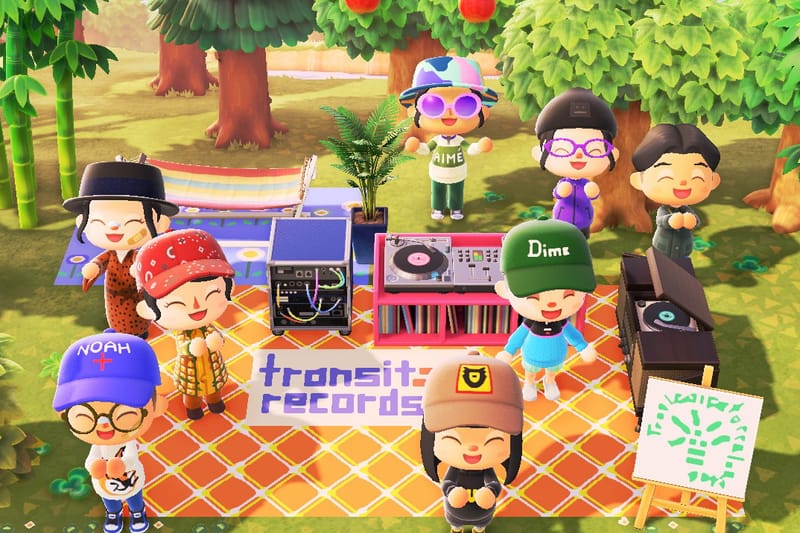 My Outfits
Here are a few of my outfits from the game! Again, you'll notice that all of them are much less sartorial than my actual every day style; I wouldn't expect the Animal Crossing developers to do 3-roll-2 sack-jacks or pleated trousers with side tabs. But that's okay. It was incredibly fun to find my own style within the confines of the game! Within the context of quarantine, it gave me the opportunity to shop and get to wear cool clothes outside!  Well, outside on my island of Hypori that is.
In fact, since ACNH is limiting with what you could do with tailoring but considerably expansive in its choices compared to other games, it actually provides me with an opportunity to experiment with pieces I don't actually own in real life.  Many of the outfits you see are in the vein of what I'd wear.  It's actually got me thinking about how my style will evolve after coming out of quarantine…
Oh, and the reason I'm holding a fish wand is because a wand grants you the ability to alternate between eight outfits that you've pre-selected from your wardrobe.  Makes it easy to transition depending on the mood you're in! Imagine if we had that in real life.
The first outfit I had in the game wasn't too bad, despite being given default clothing (which I think is just randomized from all the pieces available in the game). I started out with a white/yellow Breton stripe long sleeve tee with shorts, but as soon as Timmy and Tommy started selling clothes, I supplemented it with some chinos and rainboots! Later on, a kind villager gave me a tulip hat, which was a great substitute for a proper bucket hat until I got the Able Sisters a week later.
The outfit isn't really something I'd wear in my IRL casual style, but it's really rather nice! It's a bit basic, but presentable and clean, which echoes the starter advice from MaleFashionAdvice. It reminds me of regular street attire in Tokyo or even a slightly elevated fit from Uniqlo or Muji. Not to bad for a beginner outfit in the game!
As soon as the Able Sisters and Kicks started selling things, all bets were off. I went in each day into the store to find great clothing. Again, I was at the mercy of whatever was offered each day (you also have to luck into colorways as well), but it all worked out!
The outfit above is what I typically wear when I play the game. The bold stripe shirt (it's just a rugby) is absolutely great and the perfect top to wear to put in a semblance of my IRL attire. I also just straight up have a rugby shirt in that exact same coloring.
Most trousers in the game are slim fit (modern fashion strikes again), but you can bet your ass that I copped as many wide-leg pants that the game provides for me. The ones above are corduroy, which actually have wide wales rendered in the game! Of course, it wouldn't be full Ethan without white socks and penny loafers.
I have all these things IRL except for the damn red bucket hat. I'm still on the look out for that one; as soon as quarantine is done, I'm gonna hit the flea markets!
This next outfit is something a bit different, but something I could see myself getting into, provided I picked the right vintage.
Wide leg olive chinos approximate my WWII M43 army pants and the blue sneakers can pass for my Onitsuka tigers. But what I don't own is the chimayo vest, which is a prized item in the vintage workwear-Americana community. I'm very surprised it's present in the game (and named as such), and seeing it with what is presumably a chambray shirt (its a set), I had to have it to live out my Inspiration LA fantasies.  It also has a slight Japanese-hiker vibe!
The tulip hat was the perfect finishing touch.  In game, I wear a lot of hats, since they make for a more interesting outfit. Plus, the game doesn't really have the messy middle-parted hair that I have in real life.
This one really brings together that punk-meets-Brycelands vibe that I break out occasionally.  The funky shirt (that is legit what its called) was a random purchase that I didn't want to miss out on, though was admittedly hard to figure out how to wear properly in the game. Chinos seemed too yellow and blue jeans felt to plain.
To my delight, they stocked some navy trousers and black derbies, which was the best way to tone down the wild shirt.  I actually don't have a shirt like this, despite owning quite a few sportshirts, but that's probably what I would do if I had one (or at least one similarly as bold). A beret and tortoiseshell shades give it that final Ethan touch!
Now I really want to wear something like this.  Outside. In real life.
The game continues its inclusion of fun details with this absolutely epic Wabash popover.  The name refers to the dotted pinstripe-esque pattern on indigo denim, which is usually found in workwear.  And as the Japanese have a love affair with vintage Americana, I was happy to see it in the game.
It only exists in in one colorway (and it includes the tied bandana), but that's all you need.  True workwear is a bit hard to do in the game, so I paired the top with some shorts and hiking boots for an "outdoor menswear" vibe.  I find myself intrigued by how much I like the outfit, considering that I don't own any of these pieces (apart from some khaki shorts).  I'm not sure I'd do a full Wabash popover (as they are usually stiff), but maybe wearing my 30's chambray popover with shorts and boots wouldn't be a bad thing.
My last outfit is one for rainy days on my little island. The rain doesn't affect game play or your avatar, but it's fun to be immersive; plus all your villagers have their own cute rain outfits as well!
The bucket hat (this time in a yellow colorway) was a no-brainer, but the real star was the red anorak. If it were really raining, I'd much rather wear a trench or raglan coat, but the in-game models aren't good, mainly because they don't show any other layers underneath, making you look a bit like a flasher. The anorak on the other hand, has a hood, front zip, adjusters, and a big fun pocket. I have one IRL, though I wish it was red just to make things more interesting.
The trousers are wide-leg cargo pants and unlike real ones worn by my dad, they have a cuff and end beautifully over my white high tops without a break.
Conclusion
Isn't the game so adorable? It really has been my life during quarantine; I've played it for at least an hour everyday, just to harvest materials, check the stores, and make small strides in developing Hypori.  The game is definitely meant to be slow and enjoyable (instead of beaten and terraformed in a day, as others do), so it's been the perfect medicine for being cooped up in my house. I know this article is a bit weird and out of left field, but it's something that I enjoy immensely and actually comes through for my love of menswear.
I probably wouldn't have enjoyed the game as much as I did if it wasn't for the fashion. The amount of detail and clothing options present in the game really is fantastic! Sure, I may not be able to approximate my custom Neapolitan style suits, but in terms of ivy-prep and Americana, I'm set.  In fact, there are a few things in the game that I wish I had (or at least fit me as well) in real life!
The shopping aspect can be tough, as each day's selection is random, but that's what gets you drawn in. I'm always happy to see what my stores have; if they don't have anything good, I'll just hop on over to MJ or Spencer's island to see their selections.  I'm definitely being smart with saving my IRL money (since I'm not working as much), but you can bet your ass that I've been spending a lot of my Bells for clothing.
The biggest thing is that due to the limited selection of tailoring, it forces me to think of my style in a new way.  If jackets only came in a 2-button model and were forever tied to a specific shirt and tie that was unchangeable, how would I dress? Luckily, ACNH provides a plethora of casual Americana, some plain to use as a base and others with a bunch of great detail to evoke some interest.  I can't say for certain how much this game has altered my view of clothing, but it's definitely going to show up as we enter a post-quarantine world.
I may not wear as many ties and sportcoats as I used to, but like the game, I'm breaking out bucket hats, rugbys, chinos, and casual jacketing IRL to still be myself.  In general, it's rather nice to get to wear clothes instead of pjs (and yes, I do dress up every once in a while) and be around friends, even though we're all stuck in our own homes for quarantine.  If you haven't gotten the game, it's definitely worth it.  You'll definitely have fun fishing in workwear or chatting to your cute villagers in the rain with your anorak
I legitimately love playing this game. It's like real life, but done in a cute and wholesome way! Taking it slow and easy has helped with my mental health and has even abetted my desire to buy clothing (since it uses in-game currency and not real world dollars).  The other therapeutic activity was being able to buy furniture to decorate my house and make it even more "Ethan".  Now that may lead to some real big-boy purchases and a shift in budgets as soon as quarantine is over…
Always a pleasure,