Much to everyone's surprise, it took me a few weeks to actually see La La Land, a story about two struggling artists pursuing their dreams in Los Angeles.  Sounds pretty familiar, right?  After seeing the film (which I loved by the way), I decided to write this article, which goes into Ryan Gosling's (or his character Sebastian or "Seb") style and attire in the film.  Since the film is currently in theaters, the pictures I have included are pulled from paparazzi or BTS images, but I'll be sure to update them with actual screenshots once its available.  I'll try to keep my article about the clothes, but there might be spoilers so beware!
As I stated, Seb (Ryan Gosling) is a struggling artist living in LA.  He's a jazz pianist who dreams of opening up his own club in an era where jazz is dying.  Seb is a bit stubborn and stuck in his ways, with boxes of jazz albums of (I'm assuming) Teller, Mingus, Armstrong along with various memorabilia filling up his very bare apartment.  Unable to adapt his music like his friend Keith (played by John Legend), Seb is almost a caricature of Jazz enthusiasts.  His attachment to the old ways is apparent not only in his preferred style of jazz but even extends to his style.
Let me just say right off the bat that Seb doesn't dress full vintage or in the 1930's or 1940's style.  That didn't stop many people thinking he did.   Spencer recalled how a friend asked him about Sebastian's suits and if they were accurate to the period; Spencer responded with "well the movie takes place in 2016, so yes".  La La Land may be a love letter to the Golden Age of Hollywood (more specifically of the musicals from 1930-1950) but that doesn't mean its characters dress like it.  There are no high waists, no double breasted suits, and now large lapels.
If anything, Sebastian does a modern interpretation of the mid 1950s early 1960s style which is vastly different than the 1930s and 1940s style;  remember vintage style isn't a catch-all term.   Seb wears slim fit suits with semi-slim lapels, slim low waisted pants, regular point collar dress shirts, and vintage late 1950's ties.  For more details, you can read more about each era's specific styles an details here.   It might be a bit different than how the mainstream "dapper bros" dress today but its still something closer to what guys would wear (or rather should wear) to Dapper day.
However, Sebastian does have great style with a slight vintage twist and, if anything, is one of the best dressed leading men in recent film.  Just like leading men in the Golden Age of Hollywood, Seb's attire is designed as an extension of his character and as a visual focus, to pick him out among the other characters of the film.  Let's get into it.
Sebastian's Sartorial Game
Sebastian wears modern pants, sportcoats, and suits as the movie takes place in our modern time.  Most vintage jazz enthusiasts I know tend to have a more Golden Era styling, like New York's Michael Arenella .  However, this could be due to their preferred style of jazz.  Seb plays jazz piano and prefers small jazz combos of the 50s and 1960s, so it makes sense that his own style reflects that wearing semi-saturated coats with plain pants and shirts.  To mainstream dressers, it looks vintage but to seasoned vintage enthusiasts, Seb is clearly wearing modern clothes, save for his late 1950s early 1960s ties.   It's still a classic look and is easily repeatable in today's age, since almost all mainstream brands (H&M, Banana Republic, J. Crew) still prefer the slim lapel, slim fit, low waist aesthetic. At least everything fits well, showing that Seb has an eye for well tailored fit.
As a jazz pianist, it is fairly obvious in the film that Seb doesn't make much money.  We don't see much of his wardrobe in the film, but based on what we do see, its all classic versatile stuff:  dark trousers (to ground the outfit), white shirts, and jackets with some color.  His jackets are pretty cool (especially the full suit at the end) but aren't anything super special, probably purchased at H&M, BR, or J. Crew.
There are no large lapels, peak lapels, double breasted varieties, patch pockets, or other details that suggest a vintage wardrobe nor are they available in pinstripes, checks, or plaids.    It's all basic colors with a bit of saturation  that could work in almost any person's wardrobe; I would have loved to see him in pinstripes, checks, or Add to dictionary and herringbones.  That's what leading men like Fred Astaire wore in their musical films!  However, his saturated and plain colored jackets work extraordinarily well in the film as the entire film is filled with color.  Makes sense for your leading man to stand out, right?  This use of attire (both in styling and color) help set Seb apart from the other male characters, who are either casual or wear normal (i.e boring) suits.
Sebastian's trousers are low waisted, slim, and cuff-less.  It would be interesting to see these details present in a film, to reflect Seb's deep obsession with "the old days".  It works for modern styles since men today prefer not to wear high rise, fuller-cut trousers, with a cuff.  In any case, it would be cool to have him "thrift" or find vintage clothes to have him be more old school!  All of these details (as well as the preference for saturated jackets) still present in the 1950s and 1960s, which his where Sebastian seems to take his styling cues from.  It's like Seb wanted to be the 2010's version of The Rat Pack.
While his jackets may be fun and saturated, it is the ties that take center stage.  Like I said before, his ties aren't the classic foulards and stripes preferred by people in the 1930s nor are they the wild swing ties of the 1940s worn by  band leaders like Cab Calloway. Instead, Seb wears ties from the late 1950s and early 1960s, evident by their slim width and minimalistic or vertical design.  I prefer a Golden Era tie (since they work just as well today as they did back then), but these ties are still fun and give a vintage 1950s-1960s vibe if that's you're think.  It's probably just as well, since these ties are some of the cheapest that you can find.   Works out for Seb, since he can't afford to buy awesome ties from Drake's!
His shoe choices are interesting, as he prefers to wear spectator (two tone) shoes in both the black/white and brown/white variety.  I find it pretty funny, since spectator shoes fell out of style in the 1950s, and are much more reflective of the Golden Era style of the 1930s and 1940s.  Perhaps this was the costuming department's way of tying Seb to every era of Jazz; he wears 1930s shoes, dresses like the early 1960s, and wears 1950's ties.
Spectators are the vintage shoe to get since next to no one wears them today.  Manufacturers like Stacy Adams and Allen Edmonds still make them, so try to scour eBay for them.  That's where I got mine! They do take some balls to wear, and unless you're Sebastian (who has Ryan Gosling's face) don't do it.  I only wear mien to vintage events and seldom with my "modern classic" style.
Here's Seb's first sartorial outfit that we see him in. He does this combo twice (I think), first when he plays Christmas tunes at a fancy restaurant and later on after his performance with a 1980's cover band (and dances with Emma Stone's Mia).  It's a cool look, pairing an almost royal blue wool sport coat with black trousers and black/white spectators.  I would have preferred grey trousers (since they are more versatile than black pants), but it certainly helps his shoes and jacket pop. You can't see it here, but there are some closeups of Seb where you can see the cool weave of his wool jacket; it has some red thrown in as well as slight pseudo pinstripe.  Dont' forget to take note of his interesting tie.  Like I said before, it's slim and minimalistic, with a single white check and red monogram.
Seb's cream jacket and dark brown pant combo is one of my favorites as brown is one of my favorites.  It's almost the counterpart to the previous outfit, as it utilizes a fun colored jacket with dark pants, just with more monochrome.  Not many guys wear cream or khaki jackets, but I love them as they are great in chino/linen for summer time and in heavier wools for fall and winter.  You can see some fleck in his jacket in the picture above, which only adds to the awesomeness of this particular outfit. It reminds me of a similar outfit worn by Rich of the Armoury, which I prefer a more due to the shape of the lapels, the patch pockets, and the soft shoulder; you can see that Seb has some structure in his.
I'm a huge fan of brown suits and this one is no exception.  It's a bit shiny/smooth (I prefer texture), but that was common for the 1950's and 1960's since that's when sharkskin fabric was popular.  I wish that the vest was a bit longer to cover the waistband of his trousers to prevent seeing any shirt, as well as being cut a bit fuller; it looks like Seb is going to bust out of it Hulk style.  Either way, let's be happy that he isn't' wearing a belt with his three piece, as belts are a no-go with them (you wear suspenders instead).
It's a smart move to give Seb a tie with detailing near the knot, as it would have been covered by the vest if he wore ties like before, which had their designs near the end of the blade.  I'm also happy that he wears a collar bar with a semi-spearpoint shirt.  It's a great way to do some "subtle vintage styling" as well as bring attention to your tie!  The entire ensemble is a great look and proof that brown is a great color for a suit.  I could be wrong, but I think these trousers are the same ones he wears with his cream jacket in the previous outfit. Struggling artists gotta make due with what they have to create multiple outfits!
I'm also going to note that this is the only time in the film when Seb wears a three piece, a collar bar, and a pocket square in the entire film.  It happens at the end of the film, and is probably a reflection of his character development and growth, as he's graduated from separates to a full three piece complete with the details!
This is another outfit that we see in a brief montage.  I wish we got to see more, because that brown fleck jacket is amazing.  Reminds me of the one I wore in this article about fair isle sweater vests!  Note again the use of white shirts.  It certainly helps as it allows Seb to play with his ties much more easily than if he were to wear something colored or with a pattern.
For one of the final numbers in the film, Seb dons a superb white (or cream?) suit.  It's not overplayed with other colors or accessories like in the Gatbsy film, but its rather tasteful employing the use a dark striped tie.  It really reminds me of this outfit by Kenji of Bryceland's.  I do wish the costumers did it like Kenji and added black (or black and white spectators) for Seb's shoe choice in this scene. Its much more visually interesting, since the wingtips blend in with the suit.
There are other outfits that Sebastian wears in the film, but there are no pictures of it.  The ones that stick out to me most in my mind is what he wears when he plays with Keith and his "modern jazz band".  It is clear that Seb doesn't enjoy that style of music or the lifestyle, and his clothes make that a visual point.  One outfit consists of a black suit, black shirt, and piano key tie which is scarily similar to this.  Luckily for us, Seb goes back to wearing his classic attire by the end of the film.
Sebastian's Tailored Casual
Sebastian is never seen in a tee shirt and jeans in the film and insteads opts for tailored casual when he's not in his jacket and tie.  For the character, it definitely shows that Seb is living in a "la la land" of the past, where men had "sport shirts" for casual days and tee shirts were considered underwear. He wears these sport shirts not with chinos or jeans, but with actual trousers!  A definite rarity to see in modern Los Angeles.
These types of shirts that we have worn here and on Blake here are a fantastic way to go vintage, since normal shirts just don't have that type of collar. Today they call them "camp collars" but I've always known them as loop collar shirts or generic 1940s-1960s sport shirts.  The shape of the collar changed through the years (started out big and long and then shorter and rounder), but they usually all look pretty similar, having either one or two pockets (with flaps and without) and being made of cotton, linen, or gabardine. The 1960s brought in polyester so avoid those like the plague.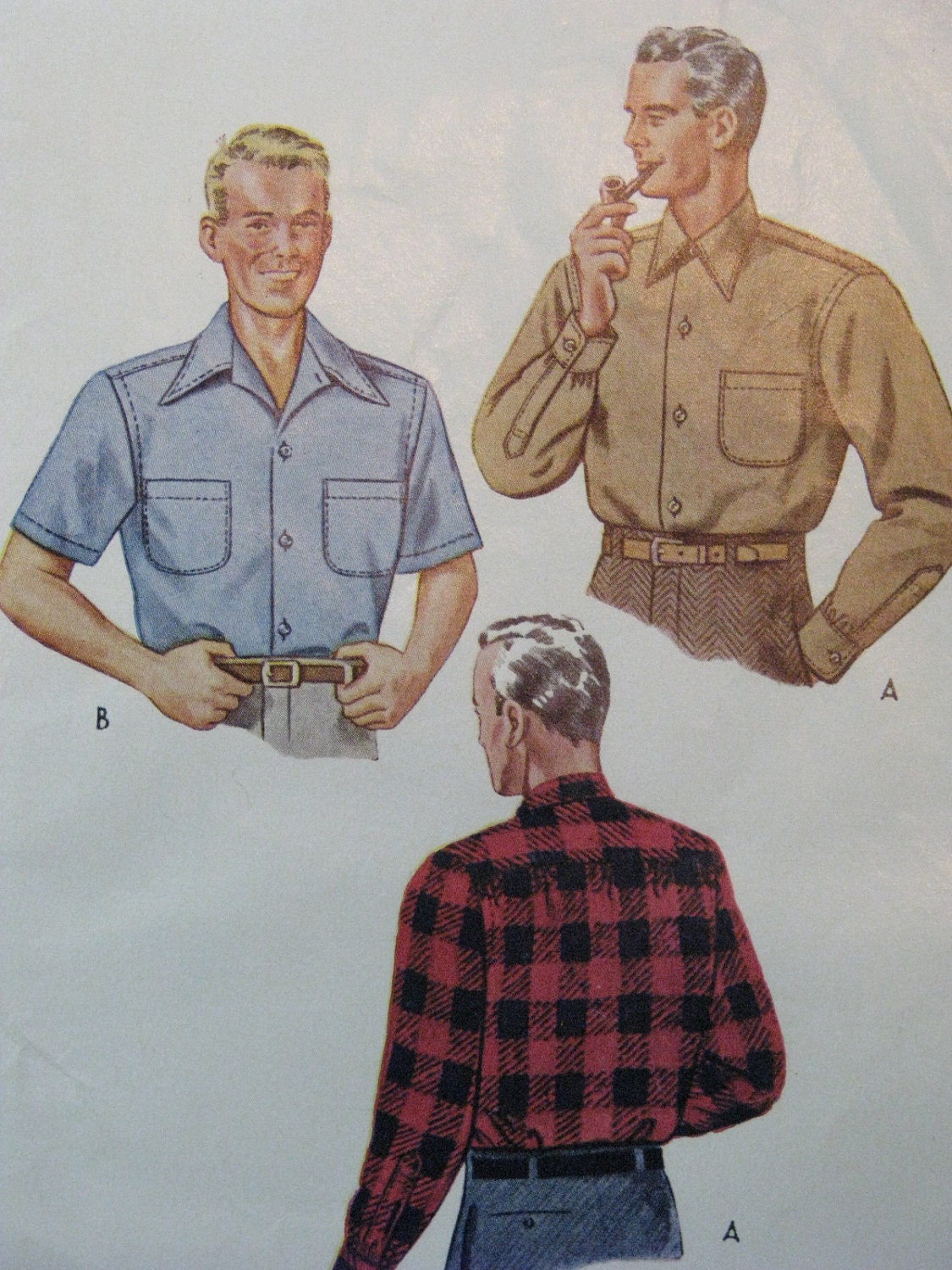 With high rise trousers or denim, it looks pretty badass.  I wouldn't suggest wearing them untucked, as most true vintage pieces are cut pretty short.  Plus you'll end up looking like you're wearing a bowling shirt instead of going for a smooth casual 1940s look.  Luckily Seb looks like Ryan Gosling, so he can do both and still look great.
I do wish there were more pictures of Sebastian's casual style, but these images pretty much do it justice.  Its not much different than his sartorial looks, as his shirts and trousers are plain; his spectator shoes are definitely the star in these outfits. The film takes place in Los Angeles, and the use of these shirts are definite classic LA vintage style.  Sebastian really knows how to dress well and keep his passion for old school jazz alive, even when not in a suit!
Overall, its a safe look perfect for guys who want to go vintage without wearing a suit.  That theme is what I talked about in this article. Luckily for you guys, these shirts are extremely common to find on eBay.  Follow Seb's lead on style and pick plain colors.  Don't go for crazy ones until you have the style down.
Conclusion
I think that we can all agree that Sebastian is one of the most well dressed film characters of recent cinema. He doesn't wear full, Golden Era vintage or Golden Era Style, but instead wears a modern interpretation of 1950s-1960's sartorial style.  Much akin to Mad Men, Seb is seen wearing plain pieces that are slightly saturated with regular white shirts. It is his ties that are the true vintage pieces of his attire, being the late 50s trendy minimalistic or utilizing vertical patterned ties.  Seb continues his love for "old style" with his awesome casual attire, which I think beats his sartorial choices.  Its much more decidedly vintage, taking inspiration from 1940s sports wear thanks to his use of loop collar shirts.  Honestly, just having those shirts make you look vintage, stepping out of a 1940s-1950s summer photo.
The costumers did a great job with developing Seb's attire for La La Land.  It perfectly makes sense in context: a stubborn man who loves old school jazz dresses in an old school way.  However, there is a sense of modern fit and styling to it that definitely pushes the conflict of evolving with the times. Or maybe that's just because I'm a vintage clothing enthusiast and I can pick out the "not vintage" pieces and stylings of his attire.
In spite of a few changes, I definitely loved his clothes. Both his sartorial and casual style are hallmarks for how the  guys should dress when opting for a modern take on vintage style.  Please leave the clip on suspenders, bowties, and fedoras at home.  This is the way its done if you want some fun, slightly-vintage personality in your wardrobe. Or you can do what I do and go for a more conservative and old school, Golden Era way.
I hope you enjoyed this article!  It's definitely fun for me to analyze and write about people's attire in film, especially when its sartorial or when it goes for vintage/ vintage inspired. Let me know if you'd like me to continue doing more of the same or even comment on what film you'd like me to look at next!
Always a pleasure,
Ethan W.
Street x Sprezza
Photos and images are not owned by Street x Sprezza