Could you imagine if this was the epitome of menswear?
This month's bonus episode is a fun one that calls to mind our original bonus episodes where we covered the style of films. In this one, Spencer and Ethan talk about two films that they've watched recently: There Will Be Blood and The Social Network. Very film bro, we know.
There isn't going to be a full break down of those films (movies take too much of my time to write about), but we at least go over the workwear-sartorial style of Daniel Plainview (and oilman). It's quite SaD, from his worn in fedora to the use of workshirts and slouchy sack jackets, both of which are used quite practically. It's quite the contract when we shift the conversation over to the early 2000s style in The Social Network.
If you like to hear us talk about film (and the clothes worn within), I suggest joining the Patreon so you get access to the episode. But since I like you, I'll give you this snippet here: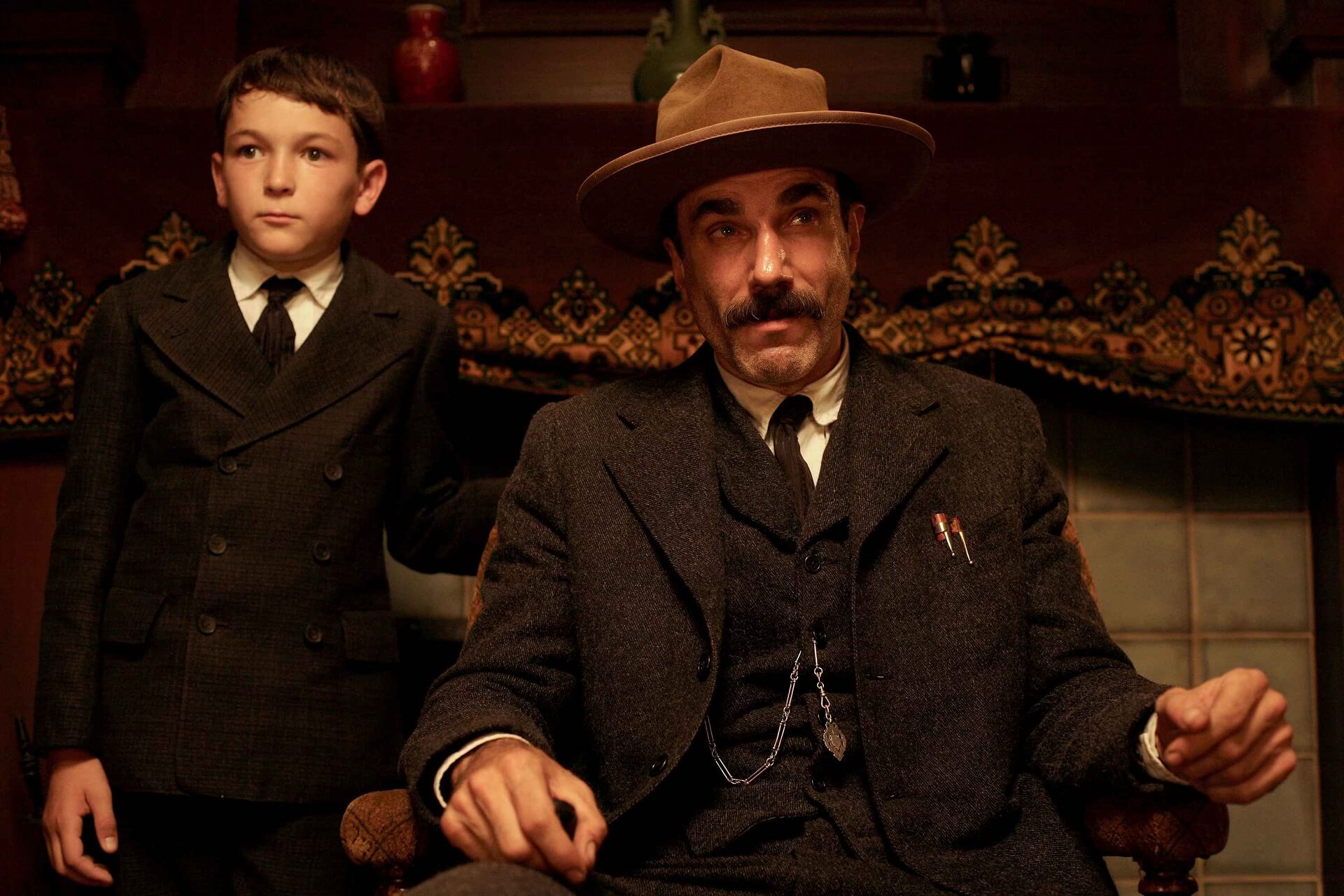 It's poker! This time we were joined not only our regulars (Jason mostly), but by John Reuter! John is Patron of not only our humble podcast but of Blamo!, the excellent interview-format fashion podcast that features many of our favorite menswear figures. As a result, John has quite a lot of thoughts about menswear; our conversations with him (and others) have lead to many mainline podcast episodes, including the most recent one: archiving.
We had two hours to talk about menswear while playing poker, so it's worth a full watch to get in all the great thoughts from everyone. We jump around from what it means to be "presentable" to why STEM bros are bad and have shitty fashion takes.
This is was a small clip, but I had to share it! We always talk about bringing our style into the wild, here meaning a non-menswear environment. A few weeks ago I was able to do just that! I went to a work dinner where it was members of my company and our partner agency. It was a steakhouse in West Hollywood, so I dressed up in "going out attire", a type of fit that you'll get a deep dive on later; it was just a simple navy suit, black loafers, and a rayon western shirt.
You might think it was overdressed, but it was honestly fine! My colleagues are not fashion people, but that didn't mean they gave me shit for it! We can attribute that to being in LA, where a variety of styles (blue suited real estate guys and hype influencers) often mix in a fancy restaurant. The real test came later, when my friends invited me out to a lounge and club after dinner.
If my Crispaire suit wasn't broken in, it sure was at the end of that night.
This video is quite simple. The boys and I take a look at the recent ALD F/W 2021 lookbook and let you guys know what we like and what we don't (as if that mattered to begin with)!
I'm not sure what I'd actually buy, but it's got me thinking for my NYC trip (which I may currently be on at the time this is posted).
Before getting into Noah's F/W 2021 lookbook (to compare against the ALD one), we bring back Producer Civilian Matt to show us some fabrics that came from Brooks Brother's now-defunct MTM program. We've covered the fall of Brooks before, but as Michael Bastian is now at the helm, only time will tell if custom will come back.
The above video is an interesting one. It's semi-related to our Vague notions of classic menswear, but more so just a way to see how it works when consuming menswear content. Are iGent's #menswear? Or is Mark Cho #menswear? The answer is probably shades of both, but as we discuss with Kiyoshi live on stream, the true #menswear is something a bit more meme-y and codified by popularity.
I also like how this stream showed how much I've been feeling bold, solid color suits lately.
Don't forget to support us on Patreon to get some extra content and access to our exclusive Discord. Catch us streaming on Twitch every Wednesday and Saturday or watch the clips on Youtube.
Oh and don't forget, we do a podcast every two weeks!
Buh-bye!
EthanMWong | StyleandDirection
The Podcast is produced by MJ.
Big thank you to our top tier Patrons (the SaDCast Fanatics): Philip, Shane, Austin, Audrey, Jeremy, and Jarek