CRAZY LONG POST ALERT (lots of pictures!)
Vintage and vintage inspired looks are what comprise a majority of this blog.  Now Spencer and I agree that you don't have to stick with one area to dress well.  You can always wear tailored thrifted trousers or a modern suit to create a look that takes cues from both contemporary and Golden Era looks.  However, if you really want to have a look that  truly throws it back to the 1920s-1940s, there's one thing you can't skimp out on: the tie.  The fact that these vintage ties have such a unique print, fabric, and construction makes it as if you're wearing a piece of sartorial art around your neck.
"Vintage ties? Are you talking about those 90's business ties?  Those thick, polyester ones from the 1970's?"
Fuck no, I'm talking about the classically designed ones from the 1920s-1940s (and maybe the 50-60s too) that define what it means to have Golden Era Style.  You've probably seen them referenced on this blog as inspiration: the sharp ivy like repp stripe ties, the foulards, the dots, and the slightly bold (yet tasteful) designs.  Spencer and I wear them all the time and we believe that it's one of the best ways to mark your outfit as vintage or vintage inspired, considering that no one makes ties like this anymore.
Now there's nothing wrong with modern ties.  Makers like Drake's and Sevenfold/Tie Your Tie make some of the best ties that are both classic and bold enough to work with your contemporary or vintage inspired outfits.  Hell, The Tie Bar  and J. Crew can make pretty good ties (stay away from other mall stores) for those of you guys that are just starting out.  But we don't really push for "regular ties" too much on this blog.   And we're definitely not in a place to buy Drake's or Kenji Kaga's pieces.  For now (and quite possibly forever) Spencer and I will buy ties from the 1920s-1960's!
As we've talked about in the guide to dressing as the 1930s/1940s , I mentioned that one of the best ways to achieve a vintage look is to wear a vintage tie.  There's something special about vintage ties that make them different than most of the ties out there! Just look at the picture below.
Yes, the suit is vintage but if you didn't know any better, you might have noted that it's a simply navy blue suit.  It's fine for most, but what if you want to give it that vintage edge? That's where the tie comes in.  To make it special, I wore a brocade silk purple tie that features a bird motif woven into the silk.  Add in a spearpoint collar and collar bar, and you've got a great 1930's look!  Much different than wearing something modern, especially since printed (not woven) florals are the way that most guys choose to stand out with their tie.  I think that the brocade provides a much more elegant approach to "statement ties".
Hell, I could wear that tie (with the appropriate shirt and collar bar) with a modern suit and it could still look pretty vintage!  Just look at this picture of Arnold Wong of Attire House rocking a similar ensemble; he wears a 1950's silk tie with his modern Ciccio bespoke suit.   That's the power of vintage ties.  The best part is that they're way cheaper than most ties out there and still retain the quality construction and fabric that is shared by the best makers out there.
This article focuses on some of the details on Golden Era ties with plenty of pictures to give examples!  Written below are the main reasons why we think that you guys should at least consider getting a few vintage sties to supplement your wardrobe!  Whether you have a strictly vintage attire or you like to mix and match eras, you'll enjoy them.
Big thanks to Monsivias & Co. and the Wellema Hat Co. for letting us photograph pieces from their personal collection!
Don't Worry, the 1930s/40s had Classic Designs
Foulards, dots, and stripes of all types are never going to go out of style.  If you look at these 1920s-1940s examples, you'll see that they don't really have much difference to the ties you see today.  If your style is fairly standard, classic, or ivy leaning, the 1920s-1960s have you covered!  You could go modern, but I still go for vintage since they are very similar (or do a unique spin/color combo) that can echo what it means to have a classic menswear wardrobe.
They Also Have Bold Colors,Patterns, and Weaves
While I am a huge fan of stripes and foulards, I do like to stand out a bit.  The use of bolder colors and interesting prints are a great way to make your outfit stand out and mark that you're not a regular sartorial dude.  Even these particular stripes, checks, and foulards are something that you don't really see everyday.  Sure, they make look pretty normal at first glance but there's something slightly different that marks them apart from normal ties.  It's as if the tie makers decided to do their unique spin on the typical ties you normally see.  I dare you to find a modern tie from the mall that looks like these pieces.
Essentially, the use of bolder foulards, stripes, and other crazy print ties are the best way to make your outfit vintage or vintage inspired simply because no one does them like this anymore.  We'll get into craftsmanship and materials in a second.  For now, just enjoy these beautiful ties.  They're like pieces of art!
Note:  If you're wondering how to pull these off, note that three piece suits or double breasted suits tend to cover a majority of the tie; it's a great way to tone down the boldness of the fabric.
The Fabric Itself
Not only were the ties made of 100% silk, but some of these bold ties were made of brocade or jacquard silk which often had some extra pattern on the fabric itself under the main pattern.  I can tell you that I've never seen a modern tie come close to this.  The craziness and rarity of the fabric is what makes each tie unique. If you get your hands on a 1930's tie, chances are you might be the only one in the world with that that particular tie. 
Super Thin, Light Interlining, and Untipped Edges
This is something I have to emphasize to so many people: vintage ties are thin as fuck.  Most people assume that vintage ties means the thick ones of the 70s-90s when that simply isn't the case.  There is no thick interlining or thick silks being used here.  What you get is a thin (but sturdy) silk that uses a very thin canvas interlining through only the middle section of the tie.  The edges of both blades are untipped and are usually self edged (the excess fabric is rolled over and sewn down); some later ties did have lining.  The resultant tie is an amazing piece of hand craftsmanship that is incredibly thin, ties a great four-in-hand, and  only has equivalents in the modern artisanal tie making world.
The Length and Width
Yes, vintage ties are a lot shorter than modern ties (or any ties past the 1960s).  This may dissuade most of you guys out there who prefer to do the sprezza-tie , but I really think that vintage ties are great.  You might not be able to do the tuck effectively or have overlapping layers, but the length will work for high rise trousers.  In fact, that's why they were so short; they were designed to barely touch the top of the waistband.  I mean, just look at the 1920's and 1940's; length is arbitrary and only depends on the look you're going for.  If you want something more modern, then a vintage tie may not be for you. However, if you go vintage or vintage inspired, getting a 1920s-1960s tie is best.
The width isn't even that crazy!  Most people think that vintage ties are going to be super wide, but that's only true of the late 1940s, early 1950s, and the late 1960s-1990s.  The ties featured here are only 3-3.5″ in width, which makes them very comparable to classic contemporary ties from Drake's.  Obviously they will be a little wider than ones from J. Crew or GAP, but we really suggest having 3″ ties for a classic look.
Also note that the width and shape of some of these ties (especially the early 1920s stuff from Damian) varied.  That's because there wasn't a real standardized shape until the late 1920s; until then, manufacturers and designers had free reign over ties since they were seen as pieces of art.  You might see some variation in the early 1930s, but for the most part, vintage ties won't be too different than what you see today.   You could also embrace it and use the shape to stand out like Spencer did! 
The Price
Here's the kicker:  these ties are mother fucking cheap.  You might think that because of all the different factors (craftsmanship, rarity, fabric, etc), these ties fetch a high price.  Well, they don't.  They really don't.
Depending on the quality, age/era, and fabric, you can expect to pay anywhere from $10-80 for a vintage tie.  Most vintage stores will get you $20-40 while eBay can go for much less (or more)! Just look at the prices online right now.  It also helps if you go to vintage events or flea markets in order to haggle or do deals on ties.
Just be sure to go to a place that is curated for vintage menswear .  Spencer and I like to go to Paper Moon Vintage, Joyride: Vintage for Men, Monsivais & Co (some of which are photographed in this very article), and Reese's Vintage Pieces for their curated and constantly expanding ties, but there are also plenty of online sellers like Briar Vintage that have equally awesome selection; the best part is that they all have extremely affordable prices. I've seen crazy prices on vintage ties from stores that have a loose definition of vintage or eBay sellers that don't know what they're talking about.  In any case, remember that anything over $60 is way too much for a tie, unless it's got some crazy detailing or other historical significance. If you're getting a regular foulard/stripe or an interesting brocade, make sure that it's fairly cheap!
It might take a bit more education and a keen eye to differentiate ties of different eras but at least you know that these ties are within your easily accessible reach.  We recommend ties from the 1920s to the early 1940s based on pattern/print alone, but the 1950s-1960s can have good ones as well!  Note that construction, fabric, and pattern/print vary through the decades.  If you find something cool somewhere, take a picture and email it to us or DM me on instagram  if you want our opinion!
You Can Make Them Work Easily
Whether you want to have a conservative look or you want to go for something slightly bold, vintage ties are a great piece to add on.  Just look at these looks from our archive. While our ties aren't as bold as the ones that we photographed above, the ones we actually own and wear are just as precious to Spencer and me.  These stripes, checks, and prints work for our more "timeless" style yet add slight vintage edge to set us apart from the other menswear guys!  Basically,  you'll also see that some of these ties share a lot of similarities to other ties out there; the only difference is that these are vintage, have a different take on classic patterns, are thinner, and were much, much cheaper.
Remember that you don't need to have all vintage pieces to "make it work".  We wear a variety from true vintage (1920s-1940s), late vintage (1960s-1970s), to contemporary suits from Camoshita and MTM from Indochino and Vulture Suits all the time with our vintage ties.  Vintage ties work with it all.  If you know what you're doing (i.e pattern mixing) and you have a good wardrobe that has wide lapels and high rise trousers, you'll pull it off!
  Modern Ties
Again, there's nothing wrong with dressing and buying from contemporary brands.  They all have their place and work for regular dudes who want to step up their game a bit or for guys who just something cool to wear for the office.  But this blog isn't for those guys, now is it? You're reading this blog because you want to have some throw back vibes with your sartorial outfits!  Or you want to learn more about vintage clothing and find out how to incorporate them into your outfit.  That's why we suggest you to at least consider vintage ties.
Like vintage ties, most modern ties are made from silk.   Gone are the days of the 70s-80s where ties were made of some form of polyester or other synthetic.  Brands have recognized that consumers want something that has quality and has a slightly classic look.  However, I find most modern ties (especially mall brands) to be lacking for my taste. They just don't have a sense of boldness or personality like vintage ties do, at least to me.  However, there are some guys today who get this right!
Sevenfold/Tie Your Tie by Kenji Kaga takes some direct influence from vintage ties and I think he makes some of the best ones I've ever seen. Whether they're silk, wool, or some other third fabric, they are produced with care and attention to detail.  His ties the signatre 7-fold construction where there is simply no liner (structure) in the tie at all; the tie fabric is folded onto itself 7 times to give it shape and thickness needed.  As you can see they look like 1930's ties! Unfortunately they retail for hundreds of dollars, which is justified considering their unique design and handmade construction, but just out of reach for us regular joes.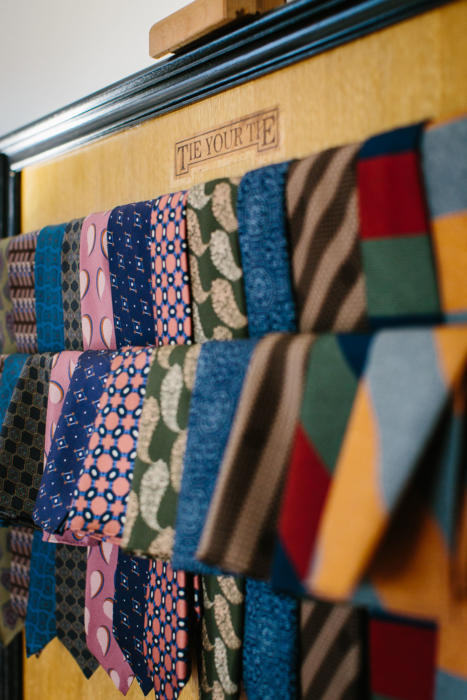 Next we have Drake's, who actually got their start making ties before becoming a full haberdashery.  They make some of the best ties around, all handmade from their factory in London. They're not exactly as 30s-40s styled as Sevenfold/Tie Your Tie, but they still have that classic menswear feel that could make a vintage look if you styled everything else correctly (i.e spearpoint collar).  Most of their models are also untipped with handrolled edges, which is a plus if manufacturing methods and craftsmanship is important for you.  Unfortunately for me, they're still a little too expensive at around $120-200 for a tie.  They're still really well made and I love their products!
BnTailor also makes a good 30's style tie!
Obviously Drake's ties are a slightly more conservative when you compare them not only the the vintage ties but to the Sevenfold/Tie Your Tie ones.  This isn't a bad thing, since they definitely have a classic feel to them; I'd recommend Drake's for Armoury or ivy inspired outfits.  1930s-60s foulards will be most similar to them but since vintage ones are slightly more bold in their fabric and pattern,  you'd be better off either thrifting conservative foulards or buying pre-owned Drake's ties on eBay!
Conclusion
Most people forget that ties can be used to make your outfit stand out.  And I'm not talking florals or crazy paisleys, I'm talking vintage ties.  I'm not sure why guys don't consider them, but there are plenty of great reasons:
 They can be classic, with vintage repps or dots; they're almost no different than modern ones.
They can also be bold; the way the 1920s-1940s approached certain stripes, checks, weaves, and patterns are way different than today!
The fabric (brocade/jacquard silk, Palm Beach) is rare and not just simple plain silk like today.
They naturally work with high rise trousers.
They craftsmanship is unparalleled, as the ties have thin interlining, tie a tight knot, and have untipped/unlined edges
They're motherfucking cheap with prices ranging from $20-60, which is affordable to everyone.
It is for all of these reasons that Spencer and I buy and wear  vintage ties.  We usually get comments whenever we wear them! The ones we have are classic enough  not to look too dated but they're interesting enough to set them apart from almost all the ties out there.  There's nothing wrong with buying from J. Crew or The Tie Bar, but vintage is better made, better looking (to us), and way cheaper.  The only brands that come close to same level of craftsmanship and interesting print are Drake's and Sevenfold/Tie Your Tie.
Some people are under the impression that vintage ties are always wide, but that is simply not the case. While four or five inch ties were in vogue during the 1950s, in the 1920s and '30s, ties were a moderate width, usually around 3-3.5 inches. That's roughly the width of ties sold today!
As you can see, having a vintage tie is one of the best ways to have a vintage look without having to go all in.  We'll probably do a guide on how to date vintage ties and separate them by era in the future, but this will have to do for now! It's my wish that this article helps open your mind to vintage clothing and helps you see it not only as a way to save money, but as a source of affordable high quality clothing that is filled with personality.  Plus you'll be owning a garment that almost no one else has.  Pretty cool right?
If you find a cool tie and you're unsure of its age or how to wear it, feel free to send us an email (inquiry.streetxsprezza@gmail.com) or DM me on instagram! I'd be happy to help you out.
Again, big thanks to Monsivais Co. and Wellema Hat Co. for letting us photograph their ties! Be sure to check them out and see what great 1930s-1940's ties they have to spice up your wardrobe.
Always a pleasure,
Ethan W.  
Street x Sprezza
Photography by Ethan W.