Vintage,  pre-1970's brown herringbone sack suits from Brooks Brothers are pretty hard to come by.  Well, Spencer and I found two!
We've briefly talked about sack suits before (here and here and even here)  and how they are the definition of ivy, American tailoring.  With distinctive jacket features like a natural shoulder, 3-roll-2 button stance, no side darts (contrast to drape),  and a hook vent, it's a style that you seldom see done in an authentic way other than bespoke by Yamamoto-San of Tailor Caid.  Overall, it is the natural shoulder and  button configuration that allow sack suits to be the most classic "vintage" piece a man can wear.  Some might say in general that two button suits are versatile in regards to era, but thanks to changes in shoulders and button placement, some can look very dated.  The sack suit remains supreme.
The love of darker brown suits in general just stems from the fact that those colors are hard to find in contemporary RTW (at least mall brand wise) and even vintage at times (since it's rare/popular).  I mean just look at the gorgeous color on one of my grail suits. Most guys don't like wearing brown suits because of the idiotic "no brown in town" rule, but perhaps that's why it speaks out to Spencer and me.  Brown is a casual color, so it's perfect to make suiting look more natural and easy instead of stuffy.    Don't get me wrong, we do love blue and grey suits, but brown holds a special place in our heart.
Imagine our surprise when Damian from Monsivais & Co. found a vintage brown herringbone  Brooks Brothers 3PC sack suit.  Unfortunately for me, he said it would fit Spencer but I was determined to grab it if it was sightly too small.  We made the short trip to Highland Park (where Damian's shop is) and Spencer tried it on.  It fit him almost perfectly, so he purchased it immediately to get it adjusted by our tailor.
Spencer's Suit
Spencer's suit is a Brooks Brother's makers suit, cut from a faint brown herringbone.  You can see how killer it is.  Amazing color and fit, from the supremely ivy 3-roll-2 configuration down to the straight (yet slightly slimmed) legs.  Doesn't it look pretty contemporary?
Obviously this suit could go with anything, but Spencer decided to keep things pretty ivy and red with a vintage Brooks Brothers striped OCBD and a 50's knit tie.  It's a little too much color block for me, but I think it works nicely.  Not everyone has to go crazy with colors and patterns like I do!
Since the trousers are just flat front (the norm for sack suits), the jacket can let us know a little bit more about the era of origin.  You'll note that the buttons are pretty spaced pretty far apart, which is the norm for supremely early to mid 1960's clothing.  The lapels are a good medium width that make it a classic garment, versatile for almost any era you want to dress as.    I will add that his lapels are slightly bellied (ie, not razor straight) and feature a very wide (obtuse?) notch.  Interesting details, don't you think?
Now if you go back to the header image, you'll see that Spencer's suit is a darker brown than mine and features a slightly different weave; obviously we don't own the same suit.  The jacket has butterfly lining and has a "Brooks Brother's Maker's" label.  According to this guide, this Maker's label is from 1957-1974.  My guess is that this is probably 60s or so due to the wide button placement and the higher roll on the lapel.  Also the pants are pretty slim!
Looking at the American Union tag also gives us a clue to when the suit was made.  If we look at this nifty guide , we can see that Spencer's label has a lot in common with the 1949 tags (you can see 1949 written above "SERIES" on the right).  My fingers are blocking some of the extra details, but it appears that his suit appears to be the 1968-1976 version, though I could be wrong.
Ethan
After becoming incredibly jealous of Spencer's amazing suit (since it makes for a smart 3PC, 2PC, and versatile separates), I began to scour eBay.  No dice.  I had all but given up until I made a surprise trip to Roxy's Vintage Deluxe, the costuming warehouse where I bought the unstructured 1960's suit.   I had originally thought that I had seen everything from their collection, but evidently I was wrong. Tucked away in the tiny 3PC section was this brown herringbone Brooks Brother's 3PC suit.  After some alterations (jacket and trousers), it was perfect.  
My suit has become my new favorite thing to wear, since I am completely in love with brown suits.  It's easy color (compared to navy and grey) makes it easy for me to look casual and comfortable, even though I'm wearing a 3PC suit, which is the highest formality for strict suiting. You can immediately see that my lapels are wider and shaped a little differently than Spencer's and that my trousers are a bit wider; the latter could be due to the fact that I'm shorter than he is.  Either way, it's a pretty great suit that fits in perfectly with my wardrobe.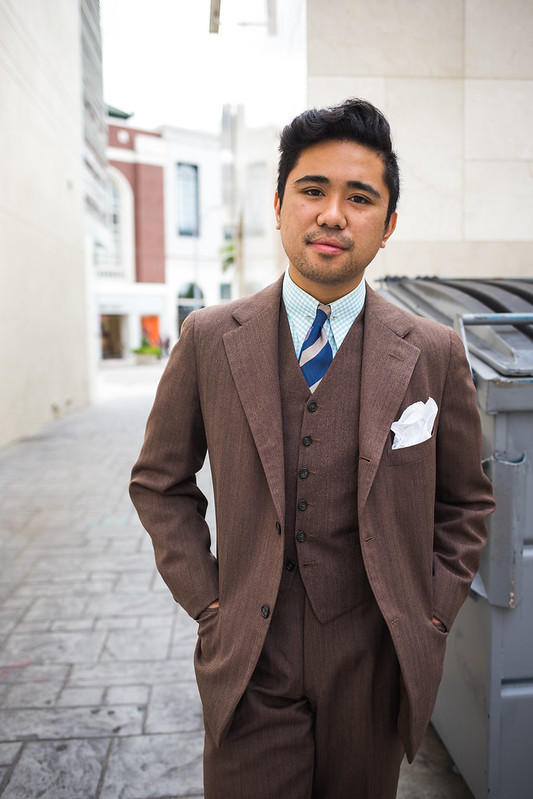 Instead of color blocking like Spencer, I decided to wear some of my favorite colors (blue and green), which I think pair smashingly with the brown suit.  Instead of my usual "stripe shirt and foulard tie" combination, I decided to do things a little different with a gingham spearpoint (with collar bar) and block striped tie.  It does feel slightly contemporary, but checked shirts like this weren't uncommon in the 1930's-1940's.
I will note again that my jacket is softer than Spencer's.  You can probably see it when I put my hands in my pocket.  Like other ivy jackets from Brooks Brothers, this one features a natural shoulder, lacks front darts, and has the classic 3-roll-2 configuration.
Now let's get into some details. Note that my lapels feature a more acute notch (compared to Spencer's wide angled one) that sit higher on the lapel.  The lapels still measure to about 5 inches, but they certainly aren't overtly huge.  Compare the shape to my favorite ones on my 1930's grail suit.  The lapels themselves are straight and come down right to second button; as I mentioned before, Spencer's lapels feature a slight belly and come to a close near the first button, resulting in a less "open" jacket closure.  It's also important to note that my buttons are much closer to each other than Spencer's.
The waist coat follows proper tailoring rules and covers the waistband.  There are 6 buttons for closure and 4 jetted pockets.  Nothing too crazy, but now I have a brown waistcoat to wear in odd combinations, if needed!
Like a true ivy suit, my trousers have a flat front.  There is no extended tab closure (I don't think I've even seen many of them apart from collegiate 1930's trousers) and instead features a simple exposed button. You'll see that the trouser loops are slightly dropped.
The trousers were considerably tapered as they first were way more than 9.5″ in width.  For those of you screaming  about why I altered a vintage garment, please remember that I never change the silhouette of pre 1950's garments; if it's anything after, I change it up.  The trousers were lengthened to the absolute longest they could be.  I always put cuffs in my trousers, so my tailor added a false cuff.
Now I think the trousers fall beautifully and have a cut that is classic: not too wide and not to slim.
Here we can see that this is a "346" suit which is apparently, the has been called the cheaper side of Brooks Brothers, both today (it is used for outlet labels) and the days of yore.  However, the jacket is also butterfly lined and the fabric feels great.  I'm certainly not a brand snob.
My union label is pretty clear, so hopefully we can figure out when it was made.  If we look back to this guide, we can see that it is definitely a 1949 label that lacks the "R" on the left side.  This means that it was made 1949-1961, which is interesting since my "346" label was stated to be used in the 1960's.
Conclusion
Brown suits are one of the greatest things in menswear (both vintage and contemporary) since they really do contain the essence of "vintage". Brown is an archaic color that has historically been used for country clothing.  Since "country style" is a thing of the past, seeing it today as a fabric for a suit (where most are blue or grey) just screams "old school cool", especially when the fit is on point.  Spencer and I were really lucky to find these garments.
While it was cool to have a mini circlejerk about our new favorite suits (which you have probably before this article, on our instagrams), I think this article is pretty useful in that it points out the subtle differences in design. I'm still unsure of the specific dates, but you can already see different treatments in lapel shape, notch angle/placement and button configuration that span only a few years.  It also makes for a good case study in determining age using manufacturer and union labels.  However, it really doesn't matter what age the garments are; they're both extremely versatile!   You can see that Spencer's opted for a true ivy look (OCBD + knit tie) while I went full 30s-40s with a pinned spearpoint.  There's nothing wrong with mixing your vintage pieces to create a classic look.
I hope you've found this article interesting and useful!  Perhaps now you'll check the labels in garments you find in vintage stores and thrift shops.  I also hope that you'll all see the beauty of the brown suit.  I'm definitely going to be wearing it in town.
Always a pleasure,
Ethan W. 
Street x Sprezza 
Photography by Ethan W. and his tripod