Is it bad that I like this look?  I promise that I'm not a douche.
Most of the time.
Ah yes, the dreaded tied sweater worn over the shoulder.  It's a look that has been a huge part of prep/WASP style for ages.  I remember seeing it a few times in the past, mainly on TV shows or movies, worn by characters to represent wealth.  The funny thing is that I don't really recall anyone doing it in real life; perhaps that's simply due to my Asian upbringing and the fact that I lived in California and not the Hamptons.
As you might suggest, the look is often worn by two types of characters: nerds or douchebags.  It's a hard connotation to remove, since it seems that we are inherently driven to think of those qualities whenever we see it.  Maybe it's because it's a really dorky way to carry a sweater that screams affectation; either wear it because it's cold or don't bring one with you!  Or perhaps it's because we seldom see it "done right". In almost every case, the entire outfit (not just the sweater) is vibrant, pulling in every color that would make the Nard Dog jealous.
With that said, I was able to find a couple of images that I actually really liked. It's still a bit vibrant and is probably being worn by some dicks (I don't actually know what movie this is from), but it doesn't look like it' trying too hard.  The polo shirt ensemble might be a bit much, but I dare say I like the green sweater worn over the pale OCBD and repp tie.  It's a bit more school boy rather than prep on vacation, which is my preferred style anyway.  I won't lie and say that I was intrigued to do it for myself.
And maybe, just maybe, the key to pulling it off is to not to act like a rich asshole.
Doing it Right
Before we go into my attempt at the looks, it's important to recognize that I was first inspired by the Drake's boys, who seem to have been the main ones to wear it a couple of times this past summer.
I first saw a modern take of the outfit worn by Chase of Drake's NYC.  During one of our hangs, he told me that he was starting to become fascinated with the prep looks of the 70s/80s.  Obviously he wasn't going for straight cosplay,  but it's clear of the inspiration through use of vibrant sweaters. However, he decides against the green chinos and purple polos and instead infuses this colorfulness with a typical neo-ivy perspective that has come to define Drake's.  It's a bit more meta in my eyes, intentionally doing a look that has been cast out by the world in a way that's still very appealing and delightfully "counter culture" (especially since Chase is the furthest from any semblance of a prep douche).
The outfit above is solid, utilizing Gurkhas and a chambray shirt for those Japanese-Americana vibes, but finishing it off with prep staples like the tied pink sweater and white buck mocs.
Shorts with the sweater makes a bit of sense as things get slightly colder here in America. I rather like this more liberal use of colors and patterns, as Chase wears what I assume is a rugby shirt over a madras shirt.  It's a daring look that requires confidence.
While the shorts look with a sweater might be a bit hard to pull off (or even fathom), I really like it when worn with traditionally ivy staples like the university stripe OCBD, khaki chinos, and a solid tie. The sweater provides some fun contrast to an otherwise subdued look.
The real baller move is when you wear it with a jacket. It's a bit of the ultimate fuck you, since you could argue that the wearer is already kept warm by the jacket; the sweater is completely arbitrary to an extent, since you can always layer with it if needed.   It's still advised to keep things rather ivy and toned down, as the sweater is the star, especially if you prefer that real 70/80s fascination with vibrant sweaters. I rather like the colorful sweater, as it makes the look a bit more interesting.
The move that really made me fall in love with it was when Chase wore it with a madras jacket.  You would think that being so boldly patterned,  that the madras would be the star, but amazingly it's the sweater that takes the cake.  The expert color palette is fantastic, exuding some summer vibes while still incorporating layering.   It also is the outfit that harkens back to the original colorful preppy vibes the most.
Matt, manager of the Drake's NYC, also did the look, saying that "P. Johnson isn't the only ones who can do it" (more on that below).  While Chase's outfit is about the pop of the sweater, Matt's is a lot more subdued as a whole, opting instead for a grey sweater worn over a brown jacket, simple dotted knit, and denim.  I find this one easier to incorporate namely because I actually don't own any vibrant sweaters.
Lucas, manager of one of the Drake's in London, also began taking inspiration from his American colleagues.  However, instead of summer vibes, he has an ensemble more suited for fall, wearing a green/black rugby over plaid tweed and a dark red tie.  Despite my love of how Chase wore his, I really like this take simply because it makes the most "sense". Layers work best when it's cold and when you get to play textures.  I'm not really into the whole rugby thing, but I can tell that Spencer will probably enjoy this one.
So as I was writing this article, the Drake's FW 2018 lookbook dropped.  Almost coincidentally, a few of the looks in the set featured a tied sweater!  As this lookbook (and it's products) have probably been in development for a while, it it possible that the Drake's boys heard about it from the top and made a few looks with this affectation in order get people hyped?  Or is it pure coincidence?  Either way, it looks stellar on both the Drake's boys and the models in the shoot.
The lookbook leans hard into their ivy roots, shooting in and around Oxford.  The first look has a vibrant Hogwarts-esque sweater worn smartly around a glen check tweed and a club-repp tie.   Then below we have sort of the opposite of what Chase was doing: a somber navy blue sweater worn over a bright tan cord suit.  At first I wasn't sure if my navy sweater (perhaps the most versatile in my closet) would've been able to be used for these looks, but it's apparent that there is always a way to make something work.
Remember what Matt said about PJT? Well as it turns out, I had seen the look before as it was featured pretty prominently in the P. Johnson Summer 2018 lookbook.  Their take is less school boy and more minimal, using the sweater to echo colors already present in the outfit.   Above, the gre sweater contrasts the darker suit but ties in directly with the solid shirt.  Below, the black sweater (an odd choice to wear with dinner wear, but just as dashing) obviously grounds in the tuxedo.  To me, these examples help turn the sweater into a cloak of sorts, almost harkening to the future when capes return to menswear.   On a more realistic note, it almost is reminiscent of how certain gentlemen will wear their overcoat on their shoulders.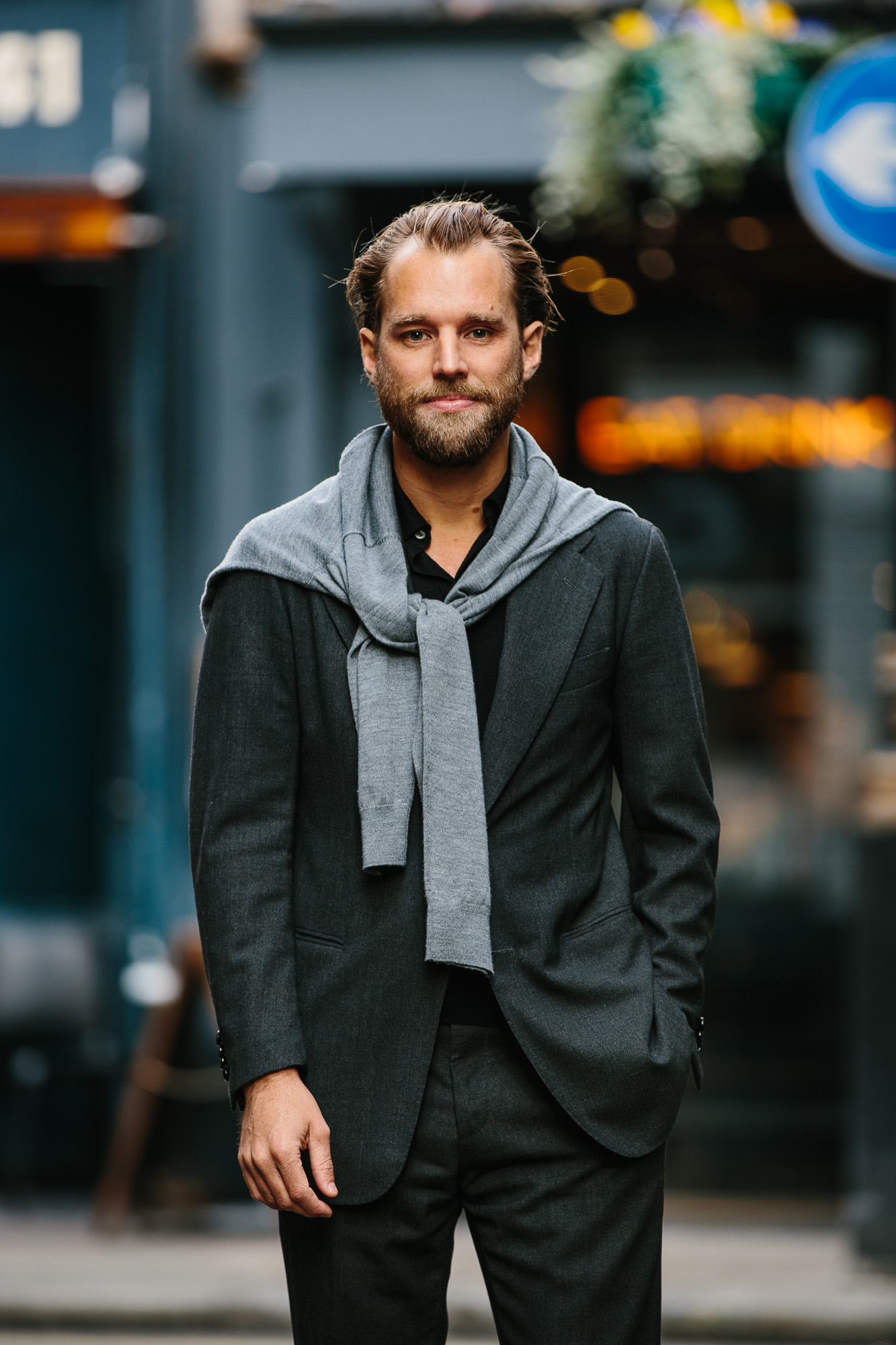 As I suspected after coming across the P. Johnson lookbooks (which predate the Drake's boys), it seems that Mr. Patrick Johnson himself has been doing the look since January of last year.  This information and picture comes to us from the venerable Simon Crompton who actually wrote his thoughts on the affectation here.  In that article, he makes the suggestion to keep things minimalistic and subdued in order to keep the look confident and remove any connection to the wealthy stereotype.  And sure enough, it looks rather striking on Patrick, the sweater working well against the sartorial polo and a charcoal suit.
In his closing lines, Simon cautions against wearing them with checks and tweeds.  Unfortunately, I like that more than the monochromatic suit look.
Even Berg & Berg got on the trend. Their way of doing it is a mix of P. Johnson and Drake's, wearing it with largely sold colors but adding in some interest with the butcher stripe shirt and corduroy trousers.  Andreas Larsson, creative director, went with a lighter approach, wearing a brown sweater over a cream long sleeve polo.
On Me
It was only a matter of time before I decided to try it for myself.   While the minimalistic, full suited looks are probably the "cooler" choice, I knew my heart lived in ivy-esque separates.  I already get a few weird looks from time to time for myself, but I wasn't going to let that stop me.
The first official outing of the look was worn on a date to the beach.  It takes a bit of inspiration from Chase's madras-shorts look but redone with things that I have in my closet. Being a beach outing (but not going in the water), I wore a severely unbuttoned linen shirt purchased from my days retailing at Banana Republic; it doesn't have a large collar but the color is nice and it works for days when I don't need a tie.  I actually tucked the shirt into my pleated shorts for a true "dad" look and tied my detergent-stained cotton sweater to finish the look. Obviously it isn't as vibrant as the Fedeli one that Chase has, but I think it gets the job done.
Because everything is a bit toned down, I don't think that it's super-preppy at all, besides the affectation. One positive note is that the sweater acts like a buffer that helps block the full-cut blousing effect of when the linen shirt is tucked into shorts.  I don't really like tucking a button up into shorts unless it has tabs (like a gurkha) as to streamline the look. However, breaking it all up into different pieces (thanks to the tied sweater) helps with that problem.  At least to me it does.
This was worn to a different beach day, where I decided to see how it works with a tee shirt. Looking back, I'm not a big fan of this look, but I don't count it as a full failure.  It's not super bad, and it came in handy as I popped on the sweater over the tee when it got colder. Though I could've just had the sweater in my bag until that moment.
I had still yet to try the look out with an OCBD and chinos, but I decided to rock this during a night with my friends at the mall. It was really a whatever night and I brought my thrifted band collar shirt, as it's something I wear when I don't want to waste an OCBD or spearpoint on a non-work day. It's actually not too bad, again providing contrast with the shirt. I will say that I definitely prefer doing the tied sweater with long pants rather than shorts; it just makes more sense!
I really liked this one as it incorporates almost all of the inspiration.  Firstly, the use of the suit doesn't really leave room for mistakes; it provides a solid, dark canvas that the sweater can shine on. However, I didn't wear a somber combination underneath!  If you look closely, you can see that I actually have a striped shirt and patterned tie, the ultimate Ethan staple. In the end, it's more evocative of the university looks from the Drake's lookbook despite being a summer suit (it's cotton).
Again, a vibrant sweater isn't necessary if you don't want to do it!  While a navy sweater could've worked, I think that the faded salmon color is a fine match for the outfit. Actually putting it on later in the evening wouldn't have been weird at all and compliments the other pieces nicely.
This next outfit is something suited for early fall and is inspired a bit more by Matt's outfit.  The grey sweater is a "boring choice" to some, but I like it worn here over a brown fresco jacket, green OCBD (purchased in NYC), and vibrant repp tie. Instead of wearing denim as Matt did, I wanted to give it a true school boy vibe with the khaki chinos, white socks, and loafers. Interestingly, the tie is the only patterned piece I have in this ensemble!
Being able to put it all together with these somber colors is definitely the way I want to pull it off in the future.  The sweater still contrasts against the other colors, but it's able to be worn if it got colder later (which it did).  The salmon would've been an odd choice and a navy blue one would've been too dark and turned the entire outfit top heavy.
The second time I did the look, I delved deeper into the uni student vibes. This meant classic blue stripe ocbd, repp tie, and chinos.  I think this one is a bit boring considering the "normal" color scheme when compared to the previous outfit, but I like that, especially since I have a darker sweater; it's a better choice than the grey one.
Updated Pictures: Jan 2019
Conclusion
The tied sweater affectation definitely has its share of bad connotations, being worn by stereotypical nerds and douches alike across popular culture. But that could be said about a lot of things (like the beret) and we all saw how that turned out!  The appeal to me is seeing this look in a different context. It's lazy in a sense, since it calls to mind the way kids would tie their sweater around their waist when they didn't want to wear it or hold it.  It's almost like a fuck you to people who don't like the look. But seriously, don't be a douche about it.
I probably won't actually wear it too often (in fact, I only felt the hype for a few days and haven't returned to the look), but it's something to think about. I don't want to look fancy (slouchy is my preferred word) in the slightest.  In fact, I think it definitely looks more sloppy than anything, thanks to how lazily it is tied on and when it's combined with rugged pieces like a severely unbuttoned shirt or a well worn OCBD.  Above all else, I like that it adds something extra to an otherwise "normal" fit, akin to how I approach hats.  Wearing it over a suit or sportcoat might be a bit overkill, but a plain shirt and chinos is good enough.
The outfits we saw here are well done and not too much of a caricature. Vibrant sweater or not, putting it over classic ivy items like striped ocbds, repps, and chinos, gets the job done. You could also take a page out of the PJT book and do it with more minimal outfits, but we all know I prefer the ivy look (particularly the fall/winter palette).   Personally, I think the key is doing it like a university student rather than an affluent prep on vacation at the Hamptons; having a nice attitude instead of being an asshole about it probably helps too.
Always a pleasure,
Ethan W.
Street x Sprezza