After the success of our NYC Trip, Spencer and I found ourselves wanting to do another one before the year was over.  With what little vacation time we had, we booked a trip to SF and made a little adventure out of it.  Unlike Seattle, this was basically a menswear trip!  Only three days, but hey, we love packing our days full.
We've been to the Bay Area before (and even once before that), but I think we've evolved enough to make it a completely different experience now.  We had so many friends, colleagues, and stores to meet! 
My Phone Was Stolen
Before I get into a recap of the whole trip, I want to share something that maybe not many of you know. On the Saturday evening of this trip, I had my phone stolen quite literally out of my hands while I was waiting for the BART.  Gave chase, but to no avail; cops did respond quickly but never found the culprits.   Made for a lame evening and a melancholy Sunday, but things are okay now.
Yes, I did find my iPhone but they must have turned off the phone immediately. It was freshly upgraded (RIP) so it takes a passcode and face ID, but just in case, I changed everything from bank password and social media to even my apple ID.  Apparently changing Apple ID and signing out on old devices makes it impossible for tracking, but if we're being honest, I don't think it's going to be recovered.  Even if they got in, I changed every password in all the apps and in the keychains, so all they would be stuck with is whatever is on the Phone (which is a plethora of film scores and dumb pictures).
While I was able to recover and get a phone to do my job, it mainly was a scary situation as I didn't want to get my identity stolen.  I haven't seen anything suspicious on any apps, so I think I'm good. It could definitely have been a lot worse as this was the same station where Nia Wilson was murdered.   Overall, I'm safe now and no one was hurt.
Though, you guys do miss out on the silly pictures I took with my phone during the trip.  You'll have to enjoy pics from my IG story that I was able to save rectroactively thanks to the archive function.
Friday
In order to maximize our time (we were there Friday morning to Sunday afternoon), Spencer and I took an 8AM flight to SF and arrived shortly after 9.  We ended up bringing one bag due to our 4PM check in (as to prevent us from lugging around shit in the city) but our host thankfully allowed us to check-in early.  It was a cool spot in Sunset within walking distance of the Golden Gate Park; the entire place was well organized with well placed rules and guides! Since it's right near the 7 Bus and the N train, I'll probably book this place again for future SF trips.  With a $100~ flight, it's possible to do a good weekend in the city.
Haight-Ashbury
Our first stop was the famous Haight-Ashbury, which houses plenty of good eats and a plethora of vintage/thrift stores.  Spencer and I started on the end that had Amoeba and worked our way up. The Decades of Fashion was pretty cool, with a few great finds on sale but the best places were the local thrift shops like Held Over and Buffalo Exchange.
Held Over is notable for it's "meat locker" where it houses true vintage (1920s-1960s) in a separate spot than it's usually 70s-90s stuff in the front.  Funnily enough, Spencer and I have been in a 60s-80s ivy mood, so we actually spent more time in the front.  When we did go the meatlocker we were astounded at the prices.  Suits were within $200 range, but they had ultra rare 1930's popover spearpoints for $20-30.  They felt deadstock (or at least freshly starched).  I'm not a big fan of true vintage dress shirts, but if you are, you should check them out.
We also decided to take a full look at our friends at Relic Vintage, which is perhaps the best vintage store in the area. It's specially curated for 1920s-1960s, so it's a good place to stop by if you don't want to try your luck with thrifting.  Half of the store is dedicated to menswear, with racks of fedoras, sport shirts, vintage suits, and a small space for Groovin' Vintage (repro).  We ended up coming back the next day so Spencer could purchase a grey, 1960's tweed sack jacket and a I got a Groovin High shirt (in a size L, after experiencing it at the Bryceland's trunk show).
Let's talk about some outfits.  Now Spencer has been leaning hard into the whole neo-ivy look popularized by Drake's and by Armoury guys Dick Carroll and Ben Levy. As I've said before, ivy is a look that we've been doing lately that is "vintage" in a sense and allows us to wearing tailoring without doing a full suit. By that count, it's more rugged when compared to other sartorial styles.
With the inclusion of a colorful (a nice green) waistcoat, it calls to mind the A/W Drake's Lookbook from last year.  It's worn over a yellow OCBD and under a nice brown tweed from J. Crew; the latter has a lower button stance, but Spencer likes it for non-tie looks, which prevents the odd proportions from being noticed. Think of it as a tweed jacket that happens to look like a sportcoat.  In the end, all of these layers and the beanie help keep him warm.
He finishes it off with a pair of wide leg khakis and chukka boots. His chukkas are rather low in the ankle compared to my Loakes and give it a more casual, blucher-esque vibe which only adds to the dressed-down take on tailoring.   The leather tote (that we designed) is slightly dressy, but it's fully utilitarian, carrying the day's necessities. I can't imagine life without a tote anymore, especially since I bring so much shit with me everywhere I go.
My outfit is basically what I wish I wore in NYC.  The cold weather let me bring out my awesome 1940's raglan coat!
The ensemble is  definitely more colorful than I'm used to, which makes it a fun combination of Drake's and F.E Castleberry. With the red beanie and plaid sportcoat, it immediately brings this one to mind.  Obviously mine is a bit more old school in terms of fit and length, but it's always good to have a myriad of influences, even if it isn't exactly your thing.
The shirt is a spearpoint oxford of my own design from Ascot Chang (the blue variation was worn to Dapper Day). It's inclusion within this outfit makes things look a bit festive, which is why I toned it down with a solid black knit tie.  The chinos are actually the old Aiden fit from Banana Republic, which have been going strong ever since I left my retail job almost two years ago. They're quite slim and have a lower rise, but they're good knockaround pants when full trousers aren't necessary. I actually almost gave these up, but I realized I could always use some smart-casual chinos.  Also don't forget those green socks.
If you're wondering why I brought my LL Bean tote instead of the leather one, I just didn't want to match with Spencer. Simple as that.
Beckett & Robb
After lunch, Spencer and I went to the Embarcadero to see our friend Julian work at Beckett & Robb.  I first found out about Beckett & Robb when I was first getting into #menswear.  They've certainly had great success, being street styled at Pitti to opening up shops in Seattle and SF (the original is in Salt Lake City).   Founders Derek Bleazard and Jason Yeats focus on made-to-measure suits that are softly tailored, which I'm always a fan of.
While I was in their store, I was able to try on a few samples.  They were all 38R which meant that they were just a tad long, as you'll see, but it was mostly spot on.
We then stopped by the Alden sore so I could try on some pairs of the shell cordovan Aberdeen (full strap) penny loafer.  I've wanted a pair of these for a long time.
Like I noted in my blucher article, I've always had a problem with loafers (width, length and heel slippage mostly). Even though I tried everything in my range, I was still unsure of what to go with: the 6.5D felt kinda snug, the 7D had a lot of slippage, the 6.5E felt a bit too wide.  It didn't help that we spent the whole day walking and I my feet were already barking.
I didn't have $800 anyway, so these shoes aren't going to happen for a while! I might have to save up, go to SF, and try them on again (because the Bloke doesn't carry small sizes).
Menswear Boys
Only three gentlemen from the SF Classic Menswear scene were available to hang out, but that's okay; we'll take what we can get.  While we can all enjoy menswear, I think it's great that they all have their own styles! Edwin came in a dope quilted jacket, worn over a chocolate brown corduroy suit made by Southwick, the same maker of this old post.  Ian Anderson has some ivy casual style down, with a cable knit crewneck, beat up selvedge, shell cord boots, and a belted Barbour to finish it off.  Lastly, Daniel has an earth tone casual-tailoring outfit, wearing Stoffa in the form of the overcoat and flannel trousers.
We moved from the Alden store (which shockingly closed at 5PM) to the local WeWork office where Ian works out from.  It had a bar which had cider (perfect for a non-drinker like me) and a great view; we retreated inside to his actual space once it got too cold.  We traded stores, discussed Ian's new menswear project (affordable tailored casualwear), and attempted to drink whiskey.
Portraits and burgers were much needed afterward.
Saturday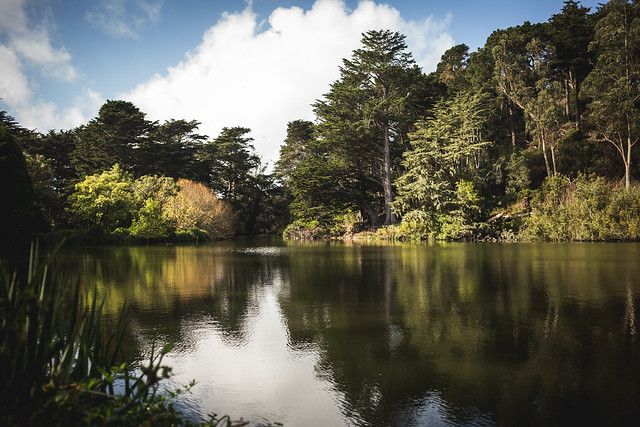 I pushed Spencer to check out Golden Gate Park.  Getting to the top was quite the walk, even coming from Sunset, but I think it was worth it! Living in LA and not taking advantage of Runyon Canyon made me want to get some nature in.
I don't really have much to say other than it was nice, though I should've changed into my outfit after the "hike".  In the end, it looks like a true copy of the Drake's A/W 2017 lookbook, just swapping the rocky isles for this SF park.
I really liked my outfit, since like my Seattle stuff, it's something that I don't get to wear often.  Safari jackets have been all the rage in menswear and amazingly, I had anticipated this years back. This corduroy work jacket from Levi was bought on eBay during my college years for only $20 and it languished in my closet until I finally found a way to wear it (and lost a bit of weight).
With a beret, spearpoint oxford, foulard tie, LVC denim, and boots, it doesn't look too far off to what Tony Sylvester would wear.  I happen to think it has a bit of a  "badass" vibe thanks to the dark palette.  You can't see it, but I'm also wearing my red Drake's sweater vest, just in case I wanted to look sharp without the jacket.
Unionmade
While there aren't too many tailoring places in SF (we did go to Cable Car but I didn't take any pictures), I really wanted to check out Unionmade. Everything leans toward casualwear, but more upscale. I can't even remember all the brands, but they had everything from multiple models of LVC to Kapital to custom Alden makeups.  I got so much inspiration for some non-ivy casual outfits just by being there and briefly talking to the employees.
Party at Standard & Strange
We ended our day in Oakland where the Standard & Strange shop was celebrating their six year anniversary.   The store focuses on denim and leather workwear from Japan, USA, and China and is a fun contrast to the tailoring shops and vintage stores that we normally frequent. Think of it like a RRL but as a retailer of other artisans.  I'm not all too familiar with all the brands that they carry, but everything looked lovely.
The SF menswear guys told me about this event, but it also happened to be where Elliot (a friend from Male Fashion Advice) works at!  Spencer and I realized that we simply had to go.  It's crazy  that we've been able to go to different fashion events (like the Rowing Blazers party) on the trips we've taken. So far, we're two for two!
The party was pretty damn cool. In addition to a hearty mix of our SF menswear friends, the workwear crowd, and a few young avant garde-esque attendees, there was also John Lofgren (and his boots), Carrie Cizauskas panting garments, and Jillian Johns chainstitching away.  There was so much good style at the party (it was good I packed a "badass" outfit), but I didn't know anyone intimately, so you'll have to excuse my sneak-shots.
While it was great to meet the SF Classic Menswear guys, I would be remiss if I didn't also talk about how great it was to meet fellow posters from MFA.  Male Fashion Advice will always be my true fashion home because it contains everything from SLP to minimalism to EG, with a lot more in between.  The comments can get pretty bad, but the main users tend to be a lot nicer and accepting, even to me, which is one of the only tailoring guys on the sub.
With that said, it was a nice feeling to bring MFA out into real life. Elliot and Nigel were incredibly cool to hang out with, though I wish we were able to hang out longer.  I've been big fans of their style and love seeing their fits on Reddit.   It also helps that they're close to Spencer and my age, so we have a bit more in common, life wise. Things like finishing school, starting careers, and moving out from parents.  They also had a stylish squad of their own that looked really fun.
Seeing all of this after NYC (where it seems everyone dresses well, works in the industry, and hangs out) made me slightly envious, since LA is just Spencer and me with the occasional Gooch Bros; most of our everyday friends aren't into any fashion.  But that's okay. Just means we can have different friends for different things!
Conclusion
Apparently, Spencer and I need to go back to SF. There was still so many people we didn't get to meet and stores we didn't get to go to, not counting the tourist stuff that we missed out on.  Obviously I was pretty rekt by getting my phone stolen after the party, but we tried to make the most of it on Sunday before our flight.   We ended up going to the Marina after the Cartoon Museum, had some crepes, and finished our day by picking up some "necessities" (like the useful cotton turtleneck) at Uniqlo, simply because the SoCal stores don't get the same stock.
I'm really starting to enjoy traveling.  In the past I always thought it was a hassle, limiting your wardrobe, and doing the basic stuff with your family.  NYC was a good test run, since it involved so many of my friends, and it set the stage for Spencer and I to go to SF (and ultimately go to Seattle with my girlfriend).  Now, I'm not so scared (or anxious) to plan a trip!
Next year, my family is going to Tokyo so unfortunately, that takes up all of my vacation days. But that still means I could potentially take a short weekend trip like this one!  And maybe, I'll do something solo.  Leave a comment and let me know where you'd like me to visit next!
Always a pleasure,
Ethan W.
Street x Sprezza
Photography by who else dude