With the exception of tuxedos, I believe that there is no distinction between "formal" and "casual" clothes; everything you own should be simply be articles to create any look you want.  With a suit, you great two great pieces: the suit jacket and the trousers. In this post, we focus on leaving your jeans at home and walking out in your suit pants!  Just because they're suit pants doesn't mean you have to dress fancy; you can dress them down!
Now remember these are suit pants; this means that they are cut and made from the same material as the suit jacket.  Basically, it's apart of a set.  In other posts, I tend to wear blazers and chinos/khakis, which are standalone items (not part of a set). Separate items tend to be more specialized, so when purchasing a suit go for simple, yet patterned. This ensures that it will definitely stand out no matter worn individually or together.
Now I'm not going to tell you to simply wear suit pants separately; fit matters above anything else.  Wearing anything that's not skinny jeans requires an ideal silhouette.  If your suit trousers are baggy or pool at your ankle, these looks will not work. The point of this is to make your suit pants look fantastic not just replace your jeans when you're lazy.
If your suit pants don't fit like the ones you see here, don't worry!  Take your suit to the tailor and ask him or her to taper and have little or no break.  This ensures a great look for your pants; you don't want to look like a dad who's wearing sneakers with his baggy pants.  Tailoring your suit pants to look like this is the only way to create such a diverse piece of clothing.
Here's the three suits that we're going to take the pants from and make a totally casual look!
Window Pane Suit 
Vintage Glen Plaid Suit 
Deep Blue Birdseye Suit
Remember: just because you're dressed down, doesn't mean you have to be sloppy! Are you guys ready to remove the pants?
1.   Street Ready
Need an easy, fun outfit?  Like I've said before, you can always pair a t-shirt with "formal" clothes to create a unique look!   In this outfit, I wear my new favourite sneakers with the windowpane suit's pants.  The best thing about suit pants is that they're usually lighter than other pants due to the material.  These ones are made of a light wool, so they drape softly over my legs and provide enough air for me to go around in!
If you've got a great pair of sneakers, it will instantly dress down your suit pants.  Look for ones with a large white gum to maintain that casual!

I paired the window pane with a nautical print shirt, which I've done before.    As it gets hotter, you should try to keep cool by doing a similar look.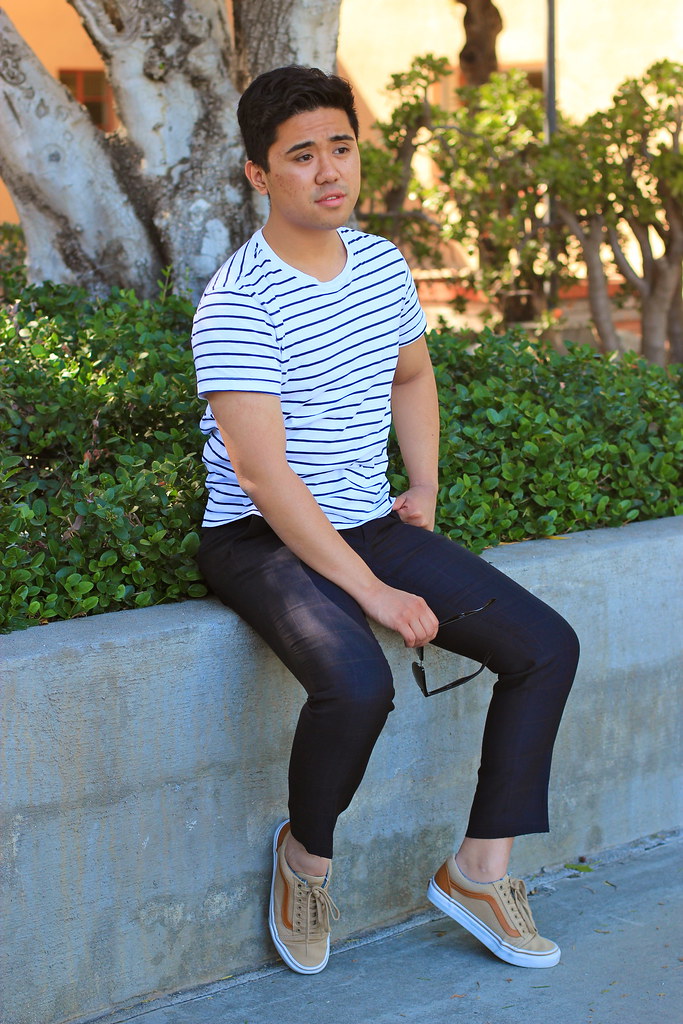 Nautical Shirt from H&M, Window-pane Suit Pants from H&M, Sneakers from Vans, Sunglasses from Amazon
2.  Replacement Jeans with a Pattern 
A surefire way to dress down your suit pants minimally is to pair them with a nice casual boot, like I do here!  It also helps to wear a button up untucked, to maintain that casual ambiance.
Even though this is a casual outfit, I still go for my fun mixture of patterns.  The widely spaced flags on the shirt contrast well with the saturated plaid on the pants.  `It's always fun to pattern mix!
Doing the "replacement jeans" look is a diverse one because you can literally do it with anything.  I'd normally wear khaki or brown pants with the shirt in this outfit, so that's why the brown plaid pants are a natural partner!

Just look at how those pants fit on the legs.  They basically fit like slim jeans, except these pants have a unique color and pattern.  You don't get that in your normal pair of denim jeans.
Even with boots, you shouldn't have a break.
Flag patterned shirt from H&M, Vintage plaid suit pants, Desert Boots from Clark's  
3.  Getting into the Yacht 
Not a sneakers kind of guy?  Too hot boots?  Go with the preppy answer to the sneaker: the boat shoe.  Naturally worn sockless, these guys (along with the Sperry method of no slip soles) are fantastic to wear with every kind of pant or shorts.  Sperry Top-Sider offers them in a variety of different colors, so get a pair you like!
Concerning the pants, I bet you wouldn't even notice that these were suit pants.  They're a very nice shade of blue and they are tailored to perfection, so they can be worn classically or casually.  In this outfit, I put on a polo (the preppy answer to the t-shirt) in a dark black to contrast the bright blue of the pants.
Contrast is fun isn't it?  This is a perfect look for spring and summer!  It's very simple.  You don't need to match patterns every time.
Polo shirt from H&M, Birdseye Suit Pants from H&M, Boat shoes from Sperry Top-Sider 
Hopefully, thanks to this post, you'll be able to look at your suit pants not as something restricted to formal wear but a replacement for all of your casual pants!  It helps if your suits are a variety of colors and patterns rather than the typical black, blue, or grey.  However, it all comes down to the shoes; this was the common theme.  Wear the right shoes and you'll instantaneously dress down your entire look.  Just because you're dressed down doesn't mean you have to be sloppy!
Always a pleasure,
Ethan W.
Street x Sprezza
Photography by Scott Espanola