If you can't already tell, I really document my casual outfits.  At one end, I typically dress down a suit or blazer with a polo shirt.  For the other side of the spectrum, I go full 1990's inspired, with a faded sweater and some jeans and sneakers.  For this article, I decided to delve more into into an outfit that is more "casually tailored", a term frequented by style bloggers like Dan Trepanier.  My version looks toward the cool summer/vacation styles of the 1930s-1950s, where tucked in shortsleeves were all the rage.  It's perfect for summer, since you're probably looking to leave your long-sleeve shirts at home.
The Inspiration
Short sleeve shirts are often seen as the bane of existence for many menswear (or fashion in general) enthusiasts.  Usually, this image is what comes to mind:
As you can see on Mr. Cranston, the shirt is much too large! The body is too big and has sleeves that reach the elbow and are so wide that they form "wings".  Not a good look at all.
Fashionable guys have battled this look with form fitting shirts, much like how a polo shirt should fit. The (now fitted) shirt is now worn with shorts or jeans and untucked; the resultant look is kind of like this, which I enjoy.  Others tend to wear them with a bit more Saint Laurent Paris influence, like Dom from usuallywhatimdressed.in. The "dad patterns" of gingham and checks are out, being replaced by chambrays, oxfords, and cool prints.  They make all great looks, but Street x Sprezza is about going in a different direction:  a vintage and sartorial direction.
Now short sleeve shirts have been around for a long time and for a while, they referred to as "sports shirts" (or sportswear) as they weren't for formal attire or suits.  These shirts had camp collars (or loop collars), had different prints, and were available in linen, rayon, or cotton!  Here's an awesome example from the 1950's:
Most guys would probably wear them with shorts or jeans today, but I want to pair them with how they were worn back in the golden era: with trousers! As I've repeatedly said, a high-rise, slim-straight trouser with no breaks is one of the most diverse garments that a man can own!  With these in your wardrobe, you can definitely wear them with a short sleeve shirt tucked in without looking too much like your dad.  The shirt dresses down the pants and shows that you can still be tailored and casual at the same time!
Casually tailored is typically how the men of the 1930s-1950s went on vacation.  There's nothing wrong with wearing a tee and shorts to Hawaii or on a cruise, but its admirable to see that these "golden era men" never really dressed down by modern standards.  Here's some great illustrations from the 1930s, which inspired me to make this post! Note that the shirts aren't too fitted, but they aren't baggy either.
As you can see, the look is very similar to the tee and trousers look, just swapping the tee for a short sleve shirt! That post stated that you have to have a fitted tee in order for the look to work, but that isn't really the case here.  The men in the pictures have a standard fit shirt and very full-legged trousers; however note that everything is tapered toward the waist.  It gives the men an "hourglass figure" that harkens back to the prized athletic physique of the inverted triangle (broad shoulders, nipped waist).
My Outfit

My outfit definitely has a more 1950's flavor, with a striped shirt in pastel colors. Even though its pastel, the colors are faded enough to be able to wear them with almost any color.  Spencer suggested navy trousers (which are very versatile) but I went with my old grey linens, since they are a bit "shlubby" and fairly comfortable.  The lack of turn-ups (cuffs) make them very casual and takes my outfit down a couple of notches.  Overall, it's a "casually tailored" outfit.
Note that fit is important if you're going to tuck in your shirt to prevent yourself from looking like a dad.  This doesn't mean that it has to be skin tight.   While the tee and trouser look focused on the shirt being very fitted, I'm more at peace with a slim ( but not too slim) button up shirt.  The slightly roomy shirt is comfortable, but the sleeves are still narrow that it forms around my upper arm.  No shirt wings here!
The key to the outfit is all about comfort and style.  The shirt isn't super tight and the pants have the right amount of taper that they aren't sticking to my legs when I walk but still allow for a slim silhouette.  The high rise also prevents the look from being "too much shirt" (since there is a lack of neckwear) and is a complete throwback to the vintage inspiration looks.
A jacket isn't always necessary, but I like having one in case it gets chilly or if I'm too lazy to put things in my pocket.  This jacket is actually the one from my 1940's Palm Beach suit that I wore to the LACMA exhibit LACMA exhibit.  It's a combination of cotton and mohair that results in a structured yet lightweight fabric that is perfect for hot weather!  This fabric, along with patch pockets and unstructured nature,  allows this suit jacket to be worn separately as a great summer blazer.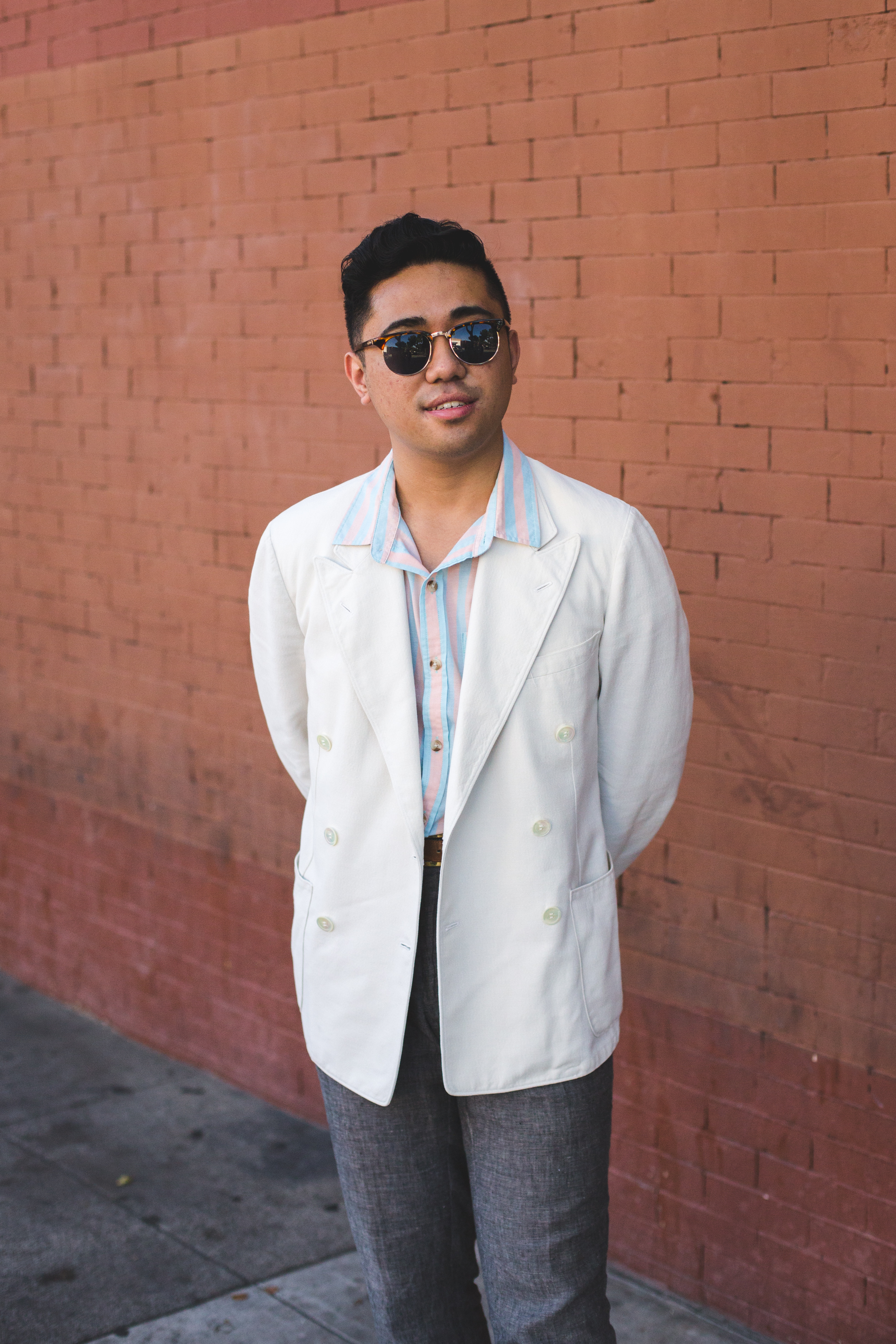 Like I said  in my pleated pants postpleated pants post, the collar over the jacket is optional but it's definitely a throw back to the vintage casual style! It does seem like something from the 1970's, but the practice has been done way before then.  Just look at these guys in double breasted suits wearing their collars outside of their jacket.   Most guys also say that double breasted suits are "the most formal garment" but that didn't stop people in the 1930's from dressing down their DBs!
Shirt from Forever 21, Linen Pants from H&M, AE loafers, Palm Beach DB Suit Jacket 
Conclusion
The short sleeve shirt has definitely returned  in full force and has been revolutionized, with a slimmer fit and an abundance of patterns.  However, instead of looking like a the typical J. Crew or Urban Outfitters guy, why not get inspired by some vintage style?  If you're looking for something new or something more tailored/sartorial, tuck in your short sleeve shirt and go with some slim-straight, high rise pants to go with some retro inspiration!   Even when things are tailored, you can still go casual.  I'm not sure I would recommend tucking in your shirt into shorts though.
Let me know what you guys think of this article! Would you ever tuck your short sleeve shirt in? Or do you prefer to keep it untucked?  Let me know by commenting below! I know that pretty biased toward the tuck, especially since a lot of my style is a reinterpretation of classic 1930s-1950s menswear!
Always a pleasure,
Ethan W.
Street x Sprezza
Photography by Spencer O.